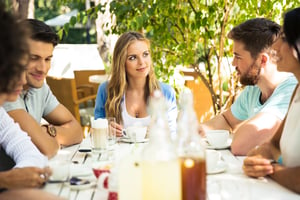 The COVID19 crisis has impacted many industries – but restaurants have been hit extremely hard. According to a recent Restaurant Industry Impact Survey by the National Restaurant Association, the industry in the U.S. is expected to lose $240 billion by the end of 2020.
As U.S. states begin to lift many restrictions, food service businesses find themselves in a unique situation that they have never prepared for. While some are finding it difficult to navigate these troubled waters, others are innovating in how they serve their customers.
Here's a round-up of industry articles providing examples of how the foodservice businesses are innovating:
Many restaurants that offered delivery options through third-party apps such as Uber Eats, Doordash, etc., are rethinking their strategy to remain profitable during this health crisis. Read more to learn about the pros and cons the delivery marketplace has for a restaurant owner.
In the wake of social distancing measures during the COVID19 crisis, the idea of "patio dining" is what the future of restaurants could look like. This article provides multiple examples of restaurants in the Georgia area that have adapted to the new CDC guidelines and are offering their customers a new sense of normalcy.
Born during the COVID19 crisis, there are a handful of restaurants in the LA area that are in a unique position to grow their business. The article explores how these foodservice ventures have flexible overhead costs, malleable layouts and changing menus, which has allowed them to adjust to the reality of running a restaurant in a strange new normal.
While the restaurant industry is expected to lose a lot of business due to this ongoing pandemic, many are looking to innovate to stay in the business. This article explores how high-end foodservice businesses are trying to stay afloat with ideas ranging from food deliveries and power menus to digital ordering and glass booths for dine-in options.
If you are a restaurant and would like to learn how to navigate through these difficult times, do check out the following resources from the National Restaurant Association:
If you need help in evaluating your current customer experience strategy and the solutions required to make it work during the COVID19 crisis, please get in touch with us.