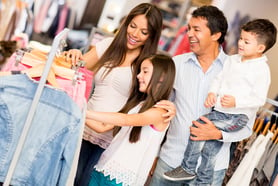 The holiday shopping season is just around the corner and retailers are looking for ways to improve the experience for shoppers and boost sales. One of the resources they look to for trends each year is the PwC holiday outlook report, which was just published for 2019. According to the report, retailers can expect holiday spending to hold steady based on the last five years — 86 percent of consumers are likely to spend the same or more this holiday season than they did in 2018 (an average of $1,284).
With 90 percent of consumers planning to shop in November and December, here are five ways retailers can get the most out of this shopping season:
1. Create Impactful Connections with Customers
Retailers spend a lot of time building an emotional connection with their customers by fulfilling needs and improving their experiences at all touchpoints. "Fully emotionally connected" customers spend close to twice as much non-connected customers annually and are also almost twice as likely to recommend a brand to their friends and family. From providing attractive loyalty deals to incorporating services including entertainment and dining, retailers can delight their customers and build trust along the way. Stores should also take advantage of technology solutions that improve their efficiency and enhance customer experience similar to how Walmart has done with AI.
2. Implement BOPIS
According to the PwC report, 66 percent of shoppers want easily accessible shopping with digital convenience above anything else. Buy Online Pick-up in Store (BOPIS) brings together these two elements and can be a valuable part of any holiday retail strategy. Whether the customer is a suburban parent or a college student, being able to buy online and pick up the order curbside or in-store can go a long way. Customers can purchase from home and have the product almost immediately — a practical solution for last-minute gift-givers or those without time to shop in-store. Retailers that don't yet offer BOPIS should consider implementing a strategy to accommodate these kinds of holiday shoppers.
3. Support Omni-Channel Experiences
Customers are planning to take advantage of all channels this year: 54 percent will shop for the holidays online and 46 percent will shop in-store, PwC says. Being present on multiple channels helps retailers reach all customers — but most importantly opens up the option for omni-channel experiences. Customers can check for coupons or read reviews on products while browsing in-store. They can also use a loyalty app to earn points as they checkout. With so many options to choose from, it's important that retailers have them up and running seamlessly for the holidays; omni-channel experiences allow for more customer engagement and can ultimately lead to more successful and satisfying purchases.
4. Provide Choice for Payment Types
The holidays bring large crowds of customers with a range of payment preferences. With more ways to pay, like contactless and mobile wallets, retailers can set themselves apart from the crowd by accepting all types of payment and reducing friction during the checkout process. If customers want to tap with a payment-enabled watch and be on their way, they should be able to. The same goes for the classic cash customer or those that want to use credit or debit. The key to making all customers feel valued is by providing choice. Let them pay their way this holiday season.
5. Prioritize Protecting Customer Data
According to the data in the PwC report, companies committed to protecting customer data — by embedding cybersecurity teams throughout the organization — can expect revenue growth of 5 percent over the next three years. Part of offering customers a seamless experience is ensuring that they never feel worried about their payment data. A 2018 Experian study found that 27 percent of respondents had their identity stolen when shopping online during the holidays, and 27 percent were victimized using a credit card at a retail store. Retailers with a balanced security approach for customer payment data can help keep away any fraud-associated holiday blues.
Armed with these five tactics, retailers will be able to run their stores seamlessly and keep customers happy this holiday season. Not sure if you're ready to implement these strategies on your own? Get in touch with us to see how this could be a reality in your strategy for 2020.
Drew Goebel is the Key Account Manager at Ingenico Group, North America