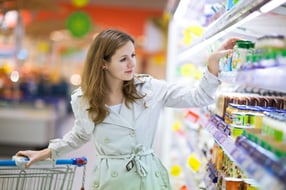 eCommerce changed the way consumers shop forever. Today, customers can get what they want delivered to their doorstep without getting up from their couches. Consumers even took to buying their groceries online and services like Walmart and Instacart have taken over the online grocery market.
With consumer preferences changing over time and many brick-and-mortar stores also offering eCommerce platforms, a new opportunity for retailers has come up with 'click-and-collect' also popularly known as 'buy-online-pick-up-in-store' (BOPIS). This feature allows customers to order goods online and instead of getting them delivered, pick up their final order in-store where it has already been selected and bagged for them.
Over the last few years, BOPIS has gained a lot of traction. In fact, Adobe Analytics reported that BOPIS increased 50 percent year-over-year (YoY) during the 2018 holiday season, and a new ICSC survey indicates that over 50 percent of adults use click-and-collect. Of those who use it, 61 percent use it frequently – at least once per month, and it continues to rise in popularity: 47 percent of click-and-collect users say they used the method more now than a year ago.
BOPIS has a lot of potential, especially in grocery, however, grocers have faced a few challenges with it:
1. Slow Adoption of Technology
Like most technological advancements in the retail industry, merchants have been slow to adopt BOPIS. It involves a lot of layers and getting everything right can be a tough task for some businesses.
2. Lack of Marketing
In other instances, grocers don't do a good job of marketing to their customers that they offer BOPIS. If customers don't know about it they'll never use it.
3. Personnel and Staffing
For BOPIS to work well in grocery, merchants would need dedicated personnel who can help them put together the online orders. They would need to understand what the customers needs and find efficient ways to package everything in time for order pick up. For some business, this can be a challenge as reallocating personnel resources or hiring new staff for this task might not be an option.
4. Other Logistical Issues
BOPIS involves many moving pieces and merchants also need to make sure they have contingencies for logistical issues that can arise. There may be situations where the customer may want to change elements in their order just before or at pick up. There may be other situations where the store associate forgets an item that was in the original order. With the lack of any direction for redressal in these instances, merchants can struggle to implement BOPIS in their stores.
Future of BOPIS in Grocery
Shopping for groceries is a necessity for every consumer and any way merchants can make this process more efficient will always be well appreciated. While there are challenges with implementing BOPIS, this shouldn't stop you from considering it as a strategy for your business. These potential obstacles should be in the back of your mind as your building your strategy so you don't run into them or something similar. In the next blog post, I will discuss how grocers can successfully implement BOPIS in their grocery environment. Stay tuned.
Peter Charpentier is Senior Director of Product Marketing, Ingenico Group, North America