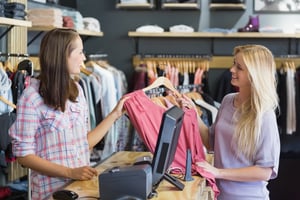 Mobile wallet adoption in the U.S. is steadily growing, but it is lagging in comparison to some Asian and European countries. China specifically is reported to have very high consumer adoption for mobile wallets, while in the U.S., less than one-third of smartphone users are on board with the trend.
In order to understand this gap between the U.S. and other countries, it is important to look at the payment habits of American consumers. Seven in 10 Americans have at least one credit card and they are accustomed to this form of card-based payments. While it takes time to change a habit, there's evidence that the U.S. is headed in that direction. A ramp-up in the issuance of contactless cards is teaching consumers how fast and convenient contactless/NFC payments can be while maintaining the familiarity of a card-based transaction. Contactless cards can get consumers used to the action of paying by just tapping their cards on the payment acceptance device – giving way to easy adoption for mobile wallets. Accepting contactless payments and especially mobile wallets is in the best interest for merchants as they can take advantage of so many opportunities:
1. Expedite Checkout
Mobile wallets allow for payments to be made quickly, which will improve the overall speed at checkout. The transaction occurs when a phone is held over the payment terminal - no swiping or inserting needed. It's no secret that customers don't like to wait; a speedy mobile wallet transaction can greatly enhance the customer experience.
2. Boost Loyalty
Customers can take advantage of the opportunity to link their mobile wallets with loyalty programs, allowing points and discounts to be applied automatically with the purchase. Storing a digital version of a rewards card, for example, can be the reason a customer remembers to use it. If someone does not have their wallet or credit card on them, retailers are still able to make a sale and boost loyalty through the customer's phone.
3. Offer Choice
Choice is entirely in the hands of the customer when various payment options are accepted. Whether it be in-store or online, customers can choose the payment method that works best for them. When more options are presented to the customer, they can feel as if they are in charge of the shopping experience.
4. Bolster Security
Security is an essential component of any payment technology. With mobile wallets, customer account numbers are not transmitted or displayed during the transaction. This is due to the stored data being encrypted, the use of random one-time payment codes and various security methods for authorization. These features reduce fraud and add peace of mind during the transaction.
While the U.S. is catching up to other countries like China that are leading in the adoption of mobile wallets, the promise of seamless, fast and secure payments is drawing attention from retailers and consumers alike. It won't be long before mobile wallets are a top choice for in-store payments. If you don't already accept mobile wallets or contactless payments, get in touch with us to learn how you can get started!
Kylie Everhart is an Account Manager at Ingenico Group, North America