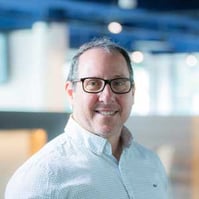 In the travel industry, innovation is rapidly changing the consumer experience and payments can be a real growth accelerator. We spoke with Eric Liebman, our new Head of Travel at Ingenico ePayments, to find out what's trending and what online businesses are looking for from a payments service provider.
Ingenico: We're excited you joined Ingenico ePayments a few months back. What made you join Ingenico?
Eric Liebman: After working for more than 20 years in the industry, what excited me most was the opportunity to work with a talented travel payments team. Everyone is very dedicated to help their customers grow their business through payments.
IG: Can you tell us a bit about your role?
EL: A while back, Ingenico decided that we wanted a hyper-dedicated focus on the travel industry. We brought travel industry experts into our team who innately understand our customer's business and are proactive and consultative, helping our customers deliver a truly exceptional buying experience to their customers.
We want to move beyond simply being a payment provider to being trusted, intrinsic partners. My role is to ensure the travel team lives up to our goals.
IG: Customer centricity has always been the Holy Grail of travel companies. What's your view on this?
EL: Great travel companies incorporate this philosophy in everything they do and payments can play a valuable role here. However, for too many years, payments was seen as a functional necessity and not taken advantage of fully. It's only in the past five years or so – thanks to some forward-thinking Airlines and Hotel groups like HEDNA – that payments have risen to the surface as part of a customer centric strategy.
Imagine how a Chinese traveler who has a very large budget but no international credit card feels when he lands on a travel site who only accept Visa, Mastercard and American Express. Or a customer who rings a call center and wants to pay by bank transfer or by credit card and is asked to share sensitive information over the phone.
There is clearly still a lot of opportunity for airlines, hospitality businesses and online travel agencies to be more customer centric when it comes to payments.
IG: What trends do you see shaping the next generation of travelers?
EL: The hot trend right now is instant gratification. The new breed of travelers demand things now. And they have to work well, be quick and they have to be 'cool'. That means when they are paying for an airline ticket, a hotel room, a cruise or anything else, these new customers want to be able to pay without any friction and with the method they prefer. They don't want us dictating how they pay, it's the other way around. That means things like Amazon Alexa, Apple's Siri, e-wallets or even Uber-like experiences where experience is key, but payments are invisible.
IG: How do payments play into digital transformation?
EL: In the last decade a number of new players have showed the world how simple and frictionless payments can be and raised the bar for everyone. Innovations lead to an improved customer experience and higher revenue for our clients. Today there are simple and secure ways to pay that don't require you to search for your wallet and credit card details.
One example of something that removes friction is tokenization. With a stored token, we can now transact most payments without having to reach into our wallets or purses, knowing our payments are secure. As a consumer, which method would you prefer? Stop what you're doing to fetch your credit card or pull out your phone to make a payment and simply click "done" when you have finished your booking? Looking forward there are endless possibilities for businesses to improve the customer experience and offer new products and services, for example through post-purchase engagement or gamification.
With iPhones equipped with facial recognition and others with fingerprints to authenticate who you are at the beginning of the transaction, we will be able to book and pay the whole journey with a few simple clicks. Or have a conversation with Alexa and book your trip immediately without using other digital devices. Now that's how payments can really enhance customer centricity.