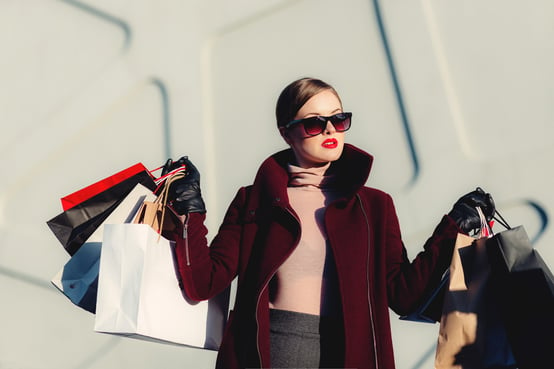 Who is shopping often dictates the type of interaction and transaction.
Businesses can decide which types of payment methods to accept based on any number of factors. They may focus on what's easiest for their internal team, what their merchant account agent recommends, differences in processing fees, or even what seems to be the most cutting edge. But one factor that merchants may overlook is their customers' ages.
Research shows that consumers from different generational cohorts have developed distinct patterns of behavior, which dictate the types of payment methods merchants must accept to accommodate them.
Consider these facts about consumers from different generations and how they impact the checkout process.
Digital-Native Gen Z's Shopping Habits
The youngest generation of consumers, born between 1997 and 2012, is just beginning to build spending power and influence over purchases on their behalf. Because they've used the internet, social media, and e-commerce their entire lives, they're accustomed to interacting with merchants digitally. However, they see value in in-person shopping. Kearney research found that 73 percent of Gen Z consumers use in-store shopping to discover products, 65 percent like to try products in a store, and 81 percent like to make purchases in store.
Somewhat surprisingly, 37 percent of this seemingly digital-first generation also uses cash, more than millennials and Gen X. However, they are the generational cohort most likely to use peer-to-peer (P2P) payments with about 75 percent using this payment method each month.
Millennial Shopping Habits and Payment Methods
Businesses with customer bases made up primarily of millennials – people born between 1981 and 1996 – need to tailor experiences to capture wallet share of this group with wealth estimated at more than $9 trillion.
According to research from HubSpot, millennial shoppers are most likely to discover new products through social media, and they're driving social commerce. Companies that allow shoppers to scan a QR code or click a link in a social media ad to make a purchase have the opportunity to win sales.
When millennial shoppers make purchases in person, they want touchless options. Millennials drove the contactless payment trend that accelerated during the pandemic, and, according to Visa, 56 percent will avoid shopping where they can't make contactless payments.
These consumers, who are starting careers, raising families, and furnishing homes, are also on the hunt for value. Loyalty programs are effective incentives for millennials, 66 percent of whom say they'd switch brands to purchase from companies with a more generous rewards program. Integrated, omnichannel loyalty solutions are essential for merchants who want to provide millennials with the greatest convenience and show appreciation for their business.
Additionally, 60 percent of millennials in a PYMNTS survey say millennials have used or would be interested in buy now, pay later (BNPL) options that allow them to pay by installments over a few months to help make ends meet in a tough economy.
What Businesses Need to Remember About Gen X
Gen X consumers, born between 1965 and 1980, are likely the most skeptical of marketing tactics that attract other generations. They'll thoroughly research products, both in-person and digitally, to avoid buyer's remorse. They'll also agree to share data about their purchases if it results in better deals and better shopping experiences.
Once Gen X consumers find products or businesses they're sold on, they're most likely of the generational cohorts to be loyal to that brand. They're also the group of shoppers most apt to support local, independent businesses.
Baby Boomers Discover Convenient Shopping and Payment Methods
Consumers born between 1945 and 1964 are working longer than generations before them and continue to build on what the Federal Reserve estimates as their $71.08 trillion in wealth. This cohort looks for excellent in-person service when shopping in brick-and-mortar stores. However, they're also expanding their shopping habits to become truly omnichannel consumers. A Synchrony Financial survey found that 87 percent of baby boomers research products online, and Jungle Scout reports only 19 percent have held out to shop in-store only.
Businesses Must Accept a Range of Payment Methods
Payment trends have evolved and accelerated rapidly since early 2020, making it difficult for merchants to keep up – particularly if they use different vendors for payments on different channels.
The solution for meeting consumer demands now, regardless of their generation and their shopping behaviors, is to choose an omnichannel payments platform with multiple payment acceptance types. This strategy gives merchants the flexibility to adapt processes to provide the experiences their customers want and complete transactions using the payment methods that customers, regardless of their generation, prefer.
Get in touch with us to learn how Ingenico products deliver a range of customer-centric POS tools.
Bradford Giles is the Senior Vice President of Marketing and Sales Enablement, North America at Ingenico, a Worldline brand
Photo by freestocks on Unsplash