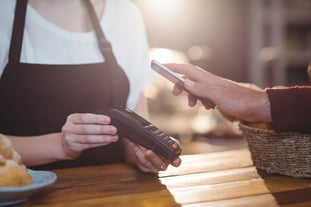 You may remember loyalty programs in their earliest form: the punch card. You'd carry this card around until, 10 star-shaped punches later, you earned a free sandwich. Although this traditional reward method persists, many merchants are looking to get more out of their loyalty program and engaging in new ways with the consumer. One way they're doing this is through integrating services into mobile wallets.
Establishing loyalty in a digital form changes the relationship between the merchant and customer. Once a business begins to accept mobile wallets as a payment method, adding services such as loyalty can do wonders to increase customer engagement and improve the overall experience. Here's how value-added services change the dynamic of a merchant's loyalty program:
Easier sign-up, more buy-in.
Mobile wallet-based loyalty programs make sign-up simple and fast. No app to download, and in many cases, no data to enter. After a transaction, the customer is prompted on their personal device to join the loyalty program. Their device can then auto-populate the enrollment form with no hassle, making it simple and more appealing to customers.
Go digital to get data.
When the customer uses their mobile wallet to participate in the loyalty program, the merchant gains new and useful information about them. What did they purchase? How often do they purchase that item? Or how often do they shop? Merchants can use this data to better understand their customers, and ultimately cater to each customer's shopping habits and desires.
Convenience + personalization = engagement.
Giving the customer exactly what they need when they need it is the key to this equation. With these value-added services, merchants can take advantage of all this new data to push useful notifications to their customers and encourage engagement. Is the customer near a store? Send a notification with a coupon. Are they standing by the register? Push their loyalty card to their lock screen. Has it been a while since they purchased a product they used to get frequently? Let them know it's on sale.
The key to loyalty – a rich, emotional connection.
Customers that feel an emotional connection to a business, or that feel a sense of belonging and inclusion, tend to be reliable repeat-customers. Providing a seamless and impactful loyalty experience can be essential in building that connection and getting them back into the store.
Value-added services are the thread that ties customer convenience, data collection, personalization and an emotional connection together. They are also a differentiator for a strong mobile wallet strategy. Businesses that accept mobile wallets with these features encourage their customers to keep coming back and reap the benefits of amplifying their engagement efforts. Interested in learning more about value added services? Get in touch with us and speak with an expert!
Mark Bunney is the Director of Go-to-Market Strategy at Ingenico Group, North America