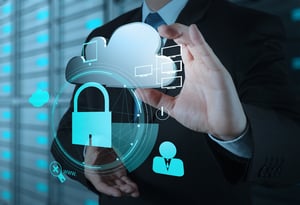 Cloud-based POS solutions have been trending upwards over the last two years, with more ISVs offering their small and mid-sized customers an alternative to traditional on-premises, server-based POS systems. While retail ISVs are on the front lines of this evolution, other segments are following suit to meet customer demand. According to Hospitality Technology's 2018 POS Software Trends Report, 61 percent of merchants said they want their next POS system to be cloud-based.
How Cloud-Based POS Solutions Work
Cloud-based POS solutions work by replacing the closed-loop system of POS solutions hard-wired to an on-premises back-end server. Instead, the POS solutions can be any device that runs a web browser and connects with the internet — including lane or countertop payment terminals, mobile POS devices and off-the-shelf tablets and smartphones. In a typical situation, a Client PC (browser device) replaces the onsite back-end server for local managers to access to the cloud and the onsite payment acceptance devices. They can connect via direct TCP/IP, Wi-Fi or hybrid environments using Bluetooth or USB PCL bridges. One of the key aspects of this is that the entire solution is platform agnostic – supporting Windows, iOS or Android devices.
This allows the store manager to easily access the cloud software and perform tasks such as managing the payment acceptance devices, updating firmware and running reports. Connections are secured via SSL or web sockets-based connectivity and network-level traffic encryption as well as P2PE solutions.
Why End Customers Like Cloud-Based Alternatives
Small to mid-sized retailers, restaurant operators, healthcare service providers and other segments that accept electronic payments are all potential users of cloud-delivered POS services. They can realize significant benefits from this approach, including:
POS solutions are easier to buy and implement. Browser-based solutions offer greater flexibility and choice in payment acceptance devices, including the option to "mix and match" countertop and mobile POS solutions, for example. And wireless connectivity eliminates the need for hard-wired network installations at every location.
Investments in existing POS solutions are safe. ISVs can offer cloud-based POS solutions that can be used with traditional Windows client payment acceptance devices so that merchants can extend the useful life of POS hardware they already own.
Software updates and system upgrades no longer involve cumbersome site visits and business disruption. Software changes all happen in the cloud, transparently to the in-store systems.
New customer-facing solutions such as mobile POS are a simple extension of existing solutions. There are no additional investments required for network access or upgrades to the back-end software required.
Managers can have instant access to up-to-date inventory and performance data simply by logging into the POS application on the cloud — as long as these services are part of the package.
How Moving to The Cloud Can Simplify Your Operations
With cloud-based solutions, Integration is much simpler because all that's involved is supporting a web browser and an outside connection for the payment terminal. Technical upgrades are made to the software that runs your cloud server, not one-by-one on hundreds or thousands of PCs and terminals.
New features and new services can be added just as easily and offered to end customers for additional fees. Moreover, you can expand into broader software- and data-based services, such as loyalty programs, customer relationship management (CRM), data management and reporting, inventory management, accounting, appointment scheduling and reminders, and more.
If you want to explore the benefits of cloud-based POS services, get in touch with us and talk to our experts.
John Kotos is a Solutions Engineer at Ingenico Group, North America