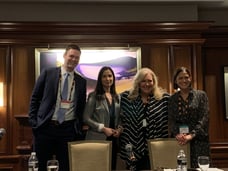 Earlier this week I had the honor of participating in a panel discussion at the Women in Payments 2020 U.S. Symposium. The topic of our breakout session was "Leading and Motivating the Next Generation Workforce," with a focus on engaging Millennials and Gen Z, supporting the needs of a generationally diverse workforce and improving communication across the generations.
I wanted to share my thoughts from the panel discussion here because retailers of all sizes and segments often find themselves with a workforce that spans four if not five generations. Having happy, engaged employees is important to the success of your business.
Generations are generalizations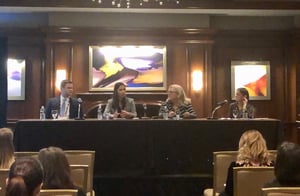 Managing this diverse workforce and keeping everyone happy and engaged has been a hot topic since Millennials came along, often with a focus on the difficulties of managing across age diversity.
Indeed, there are generational differences in mindset, motivators, learning styles and communication preferences. And it is important to understand what drives each person — whether you are looking at them through the lens of a benefits administrator or marketer. They all came of age during different times, technologies and cultures.
But these demographics are generalizations, not profiles of individuals, and they shouldn't become stereotypes. There are plenty of Boomers and Gen Xers texting, chatting and spending time on social media, while Millennials and Gen Zers do talk on their phones — and virtually everyone uses email.
Moreover, there is plenty of room within each generation for broad differences based on an individual's age and life circumstances. They often span 15 to 20 years. A 25-year-old Millennial doesn't necessarily have the same priorities as a 35-year-old, nor does a single person compared to a married one. This is a problem that business has been facing for decades. Workplace issues haven't changed, they've just been brought to light by the generational conversation. When employee issues arise, they often have less to do with the "generation" and more to do with unique personalities than anything else.
Focusing on employee satisfaction and growth
A few things Ingenico is doing globally is focusing on employee satisfaction and using the multiple datapoints that we have to better understand the wants and needs of our employees so we can create a great working environment. Twice a year, we conduct employee NPS evaluations, with the executive teams' compensation based on the results to help drive change.
We've also put a leadership model in place that emphasizes employee growth. It includes systems and processes that support managers working closely with employees to look what they want and what their career goals are. Our goal is to foster greater desire for long, happy careers at Ingenico.
As a company we are focused more broadly on corporate responsibility, including encouraging recycling with our customers and community engagement and giving back with our employees. With the new TETRA 2020 product line, we have taken major steps toward building our products more greenly –without any change in pricing for customers.
Make age diversity a plus in your organization
It's important to remember that older generations have been adapting to new ones forever. Millennials, and now Gen Zers making their way into the workforce, are just the latest generations to emerge. It's up to leadership to foster a climate of inclusion in the workplace rather than an "us against them" mentality. Here are some steps you can take to encourage understanding and cooperation across the multiple generations in your workplace.
Promote and celebrate differences. Reinforce that differences aren't just ok, they're an asset. Different points of view and motivators help make organizations successful by bringing new ideas to the table.
To communicate well with all age groups, tell a story. What we find works well at Ingenico is having all communications be more conversational by using story telling. For example, when we release annual objectives to all employees, it's presented in the story of where the market is going and what the opportunities are for Ingenico – both as a company for employees. We talk about why it's important for us as an organization and for our customers, and for the opportunities that we're creating for our employees.
Make your customer the common priority. Having a good understanding for a common goal of serving your customer is key for every team's success.
Create cross-generational teams and mentoring programs. Bring people from different age groups together with a common goal and let them learn from each other.
Set aside the labels. Labels are simplistic and encourage prejudice. Moreover, people resent being put into a box that doesn't fit. Don't reinforce the stereotypes. Instead, look at each employee as an individual.
Open the lines of communication. Give all employees a voice, no matter what age or length of employment. Great ideas can come from surprising places. Make sure everyone feels comfortable presenting ideas, concerns and complaints.
Measure your progress. Regular anonymized surveys can give you feedback on how you're doing and help you find out what your employees really want.
Focusing on the individual begins with recruitment. Be sure that at every step of the hiring process you are focused on transparency about the "soul" of your company and what it stands for. Talk about how you can help them develop skills, grow personally and advance within the organization based on their goals. And emphasize how your policies address individual needs, whether that is flexible working hours, work-at-home options or sabbaticals for community involvement.
The payoff from encouraging all employees to step out of the boxes created by generational stereotypes can be significant, including fewer conflicts, a positive work environment and satisfied employees who stay longer in their jobs. Want to learn more about what it means to be part of an organization that strives for success for both its company and people? Check out career opportunities at Ingenico!
Nino Maisuradze is the Chief Financial Officer at Ingenico Group, North America