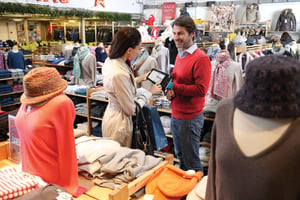 Convenience, flexibility and the ability to address unique retail environments are strong selling points for ISVs trying to bring mobile POS solutions to their merchant customers. But there are some challenges in getting to market in a timely way.
Competitive Landscape: First, competition is fierce within the mobile POS solution market. In some cases, it's as simple as which solution gets to market first, making speed more critical than ever. However, many solutions providers looking to enable their business applications to accept payments are finding themselves caught up in red tape.
Long Certifications: To integrate with mobile POS, all ISVs must submit their solutions for certification by both the processor and the card brands. With so many ISVs submitting for certification at the same time, it may take a long time before they are able to bring their solutions to market. This process can take up to a few months in some cases, which can be a critical factor in whether they are first to market. On top of certification delays, ISVs also typically have to pay a high fee per certification.
Lack of Payment Expertise: Others may be struggling with a lack of expertise regarding mobile POS or are daunted by the quickly expanding market. Payments technologies are confusing and keeping up with the changing needs of the market can be an uphill battle.
The good news is that ISVs can overcome these challenges — and get to market quickly — with a few considerations.
Here's how to get to market quickly with a secure mobile POS solution
Reliable Software: While ISVs are experts in software, they should partner with a reliable payment technology provider for hardware and payment expertise. To keep pace with the dynamic needs of the payments market, it's essential that ISVs find a partner that complements their business and is in tune with the industry. Not all partners are equal when it comes to knowledge, experience or innovation — ISVs should take time to evaluate potential partners to ensure the payments component of their solution is well-handled.
Field-Tested Hardware: When choosing hardware, ISVs should always opt for field-tested devices to ensure that the technology is high-quality and functional. Additionally, by taking extra steps to make sure the range of devices run on the same platform, ISVs can expect smooth upgrades or changes to their offering in the future.
SDK: Leveraging an industry-proven software development kit (SDK) can help to reduce costs for the future as well. While integrating payment acceptance into their business application, an SDK allows ISVs to take a semi-integrated approach and keep the transaction process out of the electronic cash register (ECR). This keeps the credit card information safe and the solution out of PCI scope, saving on time and money. With the SDK, the ISVs also avoid the need to integrate with new mobile POS devices from scratch for different use cases and upgrades.
Choosing pre-certified hardware and a pre-certified SDK can also help to eliminate the time and costs associated with meeting compliance standards, ultimately accelerating overall time to market.
A Good Payments Technology Partner Can Help You Succeed
The payment landscape is constantly evolving — standards change, certifications require renewal and innovation is around every corner. To keep pace, ISVs need to strategically deliver secure solutions to customers with speed in mind. Getting to market with mobile POS solutions can be tricky, but with the right technology partner, ISVs can cross the finish line before their competition with a reliable, dynamic and certified solution.
If you are wondering how to choose a partner who is equipped to meet your needs, find more tips in our checklist. If you are looking to start the RFP process, you can still use this information to help guide your conversations with your prospective technology partner. Have more questions about partnering with a payment technology provider? Drop us a line!
Nerino Mayer is Vice President, Sales & Strategic Accounts, Mobile Solutions at Ingenico Group, North America