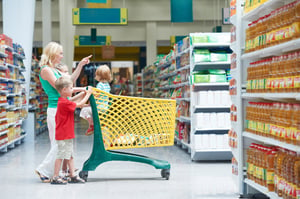 In my previous blog post, I discussed the growth of Buy Online Pick-Up in Store (BOPIS) in the retail environment and how it is gaining traction in the grocery segment. I also explored how the adoption of BOPIS among grocers has been slow due to four main challenges:
Slow Adoption of Technology
Lack of Marketing
Personnel and Staffing
Other Logistical Issues
Implementing BOPIS in your business can be difficult, and these challenges mentioned above add to the complexity, but you can build it into your strategy for 2020 by following these six steps:
1. Consistent Omnichannel Experience
Implementing BOPIS starts with an omnichannel approach. It is not just about your presence on multiple channels, but how these channels work together to provide a consistent experience to your customers. Whether it has to do with an intuitive user interface or ease of payment, establishing a consistent shopping experience across all channels helps build trust with the customer and streamlines your operations.
2. Store Organization
When customers walk in, they glance just below the aisles numbers to find general categories so they can search for the items they want. If you are offering BOPIS, you need to complement that with more detail for the staff helping out with selecting these grocery items for the customers. If customers want three cans of diced tomatoes, staff should have enough information and training to find these specific items efficiently in a large grocery store.
3. Dedicated Staff and Timeframe
For BOPIS to work effectively for the consumer and the merchant alike, you need to think about additional personnel for this task and a specific timeframe to do it in. This helps keep the task of compiling online orders independent from the general workings of your store as customers will continue to visit and browse the aisles. You will also need to make sure you provide customers with convenient and specific timeframes to pick up their orders. This can help better streamline the process for your store associates compiling these orders without disrupting the general daily operations.
4. Communication
It is important for you to keep your communication with the customer active. By informing them when their groceries will be ready can be very helpful not just for customers, but the staff that is picking out the items ordered. Communication is also key when it comes to perishable goods or produce. Customers should be given an option to specify their preferred ripeness/freshness of produce to minimize mistakes and meet customer requirements.
5. Grocery Pick Up
It won't be BOPIS if the "pick up" part isn't simple and intuitive for the customers. You can offer multiple options to them based on your business needs:

Curbside Pick Up: This option provides customers with the convenience of picking up their orders without even getting out of their cars. The staff manning these pickup stations can also provide a good customer experience by engaging with them and maybe even upsell them on additional items. It is important to provide a designated area for BOPIS customers to park. This will expedite the final and important step of delivery.
Lockers: Similar to what Home Depot has implemented for their merchandise, you could invest in lockers and provide additional flexibility to the customers of when they can pick up their orders rather than being tied to specific hours. It is also important for you to be mindful of perishable items such as produce and make sure they are stored in refrigerated areas.
In-Store Pick Up: This option allows customers to go into the store to pick up their orders giving you the additional opportunity to upsell them. This can be a good starting point as it allows your business to get a gauge on customer preferences for BOPIS and refine your approach accordingly.
6. Awareness
Last, but not least is awareness is key. You need to make sure your customers know that you offer BOPIS/ click & collect services. If they don't know about it, they won't use it. Invest marketing dollars into promoting this service to make sure your customers use it. You may also incentivize them to advocate this to their family and friends. Set expectations and deliver so that your customers will be delighted and use the service again.
Start Small
Depending on the size of your grocery business, you may need to start small. Not all strategies may make sense for you in every store you operate but going through these considerations can help you get started. Once you have BOPIS up and running, it will be imperative for you to constantly measure the success or failure of your tactics to refine and make the offering better.
Grocers need to keep up with new technology trends and make sure they provide their customers with the most convenient, unique and secure shopping experience to stay competitive in the market. If you are looking to build your grocery strategy for 2020 and don't know where to get started, drop us a line and talk to our experts.
Peter Charpentier is Senior Director of Product Marketing, Ingenico Group, North America