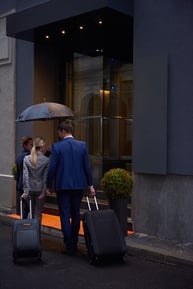 According to a report from the U.S. Travel Association, travelers spent $1.1 trillion in 2018 – $23.3 billion of which was attributed to lodging costs. With the number of travelers increasing every year, expectations for good hotel service will continue to rise as well.
With this in mind, hotels and lodging businesses are always looking to enhance their guest's experience from check-in to check-out. Where many find success is with technology solutions that can accept secure payments and program their room key cards. These solutions equipped with RFID capabilities have many benefits for the hotel and lodging owners and can enhance the guest experience in a number of ways.
Save Space – And Money
Every guest starts their stay at the front desk – it's the gateway to the rest of the hotel. It's also where space is often limited and sometimes dictates technology choices. With the latest payment solutions, the front desk doesn't have to be cluttered with separate devices for accepting payments and programming room key cards. A single payment solution with RFID capabilities can perform both functions, which frees up desk space and eliminates the cost of buying and maintaining additional devices to program key cards. Oftentimes, these solutions can pay for themselves.
Easier Check-In
With mobile POS solutions and RFID technology, hotels can take the check-in process right to the guest. Staff can use remote check-ins as a tool during high volumes of arriving guests or use it to check-in at any other location. For example, a guest could be in an airport shuttle arriving at the hotel while a hotel employee can easily check them in and program room keys while in transit. Remote check-in also enables hotels to think about moving away from a traditional front desk and simply check-in guests anywhere in the lobby to provide a unique experience.
Hotels can also provide easy check-in with self-serve kiosks, which allow guests to review their reservation, make any edits, and program their RFID room keys—all without going to the front desk. This makes the check-in process more efficient during busy times and enables hotels to save costs and provides an opportunity to engage guests on their terms, at a different touchpoint.
A Personalized Experience
RFID keycards can even collect data that can be utilized for personalizing customer experiences. Some hotels offer RFID-enabled member cards for frequent guests, which can be used to gather information on certain preferences, spending patterns and schedules when spending time at the hotel. This information can be used to offer certain services to guests before they have to request it or suggest similar upsells that may appeal more than others. Several industries have come to recognize the value of collecting guests' data – and the hospitality industry is no exception.
Access to Services
Part of what makes a stay at a hotel good is having a seamless experience. RFID keys can be the conduit that helps carry guests from one part of the stay to the next. For example, they can be used to pay for all in-hotel purchases in the gift store, at the poolside, on the golf course and more. They can also give access to the elevators, or areas like the spa or the gym. The less "keys" guests need to carry around (including credit cards), the more seamless their stay will be. RFID keys can be what uncomplicates the different activities and services a guest may partake in during their stay.
Improved Efficiency
The less a hotel has to focus on operations, the more time it can spend focusing on guests. RFID- based management systems can help to simplify everyday hotel operations -- for example, laundry. RFID technology can help account for cleaning schedules, lost items and theft that might cause issues on the day-to-day. Instead of focusing manpower on tracking inventory, employees can spend more time making the guest experience more positive.
Savvy hoteliers can even use RFID to gather data on certain areas of the hotel. For example, an RFID-enabled convenience store. By keeping track of what guests are buying, what they're not buying and what needs restocking, hotels can determine what items they should purchase more often and what items are most satisfying for guests.
Future in RFID Technology
It's important for a hospitality business to provide the best experience, not only to win the trust of its guests but also to build loyalty. RFID is a standout technology for these businesses as it brings seamless invisibility to the guest experience.
If you'd like to learn more about payment solutions with RFID capabilities, get in touch with us!
Mike Ryan is Senior Sales Executive, Ingenico Group, North America