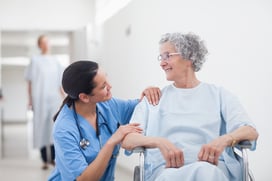 The most critical focus for any healthcare institution is providing the highest quality of care to their patients in the safest way possible. Whether it is treating them in the ER or in a clinic, patient care takes precedence over everything else, and over the past few years, healthcare technology has been a large part of this. Advances in decision support systems via electronic medical records, innovative medical devices and changes to the process have made it possible to treat many conditions more effectively than ever before.
However, providing great healthcare service now involves more than just successful treatment. The patient experience is coming into focus for many healthcare providers as hospitals and clinics can be stressful for patients and their family members. Anything that can help alleviate that anxiety can improve the overall visit and there are small steps that healthcare providers can take to ensure their patients not only get the best quality of care, but also a great experience. Here are some examples of healthcare technology that can make the patient experience better:
Patient ID Systems to Combat Fraud
When a patient enters a healthcare facility's system, they should always feel that their data is safe.
Patient identity theft is a problem that continues to rise in the U.S. According to the Protenus Breach Barometer report, more than 31 million patients' records were breached in the first half of 2019 alone. This has doubled from the 15 million affected patient records from the entirety of 2018. With rising numbers of stolen patient data, this is where a secure patient identity management system can help.
Many countries outside of the U.S. have implemented secure patient identification systems that curb identity theft and help reduce fraud. In addition, data encryption and tokenization solutions have also been helpful to further protect sensitive information. Encryption helps encode the data while it is in transit from one point to another so that if it were stolen, it will be useless without the decryption key which is only accessible by the destination gatekeeper. On the other hand, tokenization solutions protect the data at rest where the real information is replaced with a non-sensitive token that can be only decoded by the system operating it. By implementing a Patient ID system, encryption and tokenization solutions in the U.S., providers will not only keep sensitive data from being stolen but assure patients that their information is safe.
Digital Form Management and Patient Intake for Convenience
When a patient provides their info, it should be quick and convenient.
For years, processes like patient intake forms management and medical records have taken place on physical paper. Migrating these processes to digital forms makes it more efficient for healthcare providers. It also ensures a better experience for the patients who would rather not fill out long and tedious forms when visiting the doctor. Healthcare providers can choose from payment terminals or tablet-based mobile POS devices to make the forms more convenient to fill and sign digitally.
Technology with Antimicrobial Product Protection for Cleaner, Safer Visits
When a patient and their family step through the facility doors, they should not worry about more infections or diseases.
Not all healthcare technology is as obvious as it seems: antimicrobial technology is a game-changer for healthcare visits. Despite protocols in place to prevent the spread of disease, about 1 in 31 hospital patients has at least one healthcare-associated infection (HAI) on any given day. Products treated with Antimicrobial protection can help inhibit the growth of contagious bacteria which can help curb the spread of microbes that cause diseases outside of the traditional care zones in a healthcare facility. All high-contact surfaces in a facility including a copier machine, telephone or even a payment solution need to be protected to shield incoming patients, family and friends from other diseases.
Mobility to Reach Patients Wherever They Are
When a patient needs to pay for services, they should be able to pay anywhere in the facility.
There are many scenarios where patients need to pay a healthcare provider prior to or immediately after receiving care. Examples include – copays for a doctor visit, payment to the lab for additional tests, payments at the ER and even working with a patient financial consultant for a planned hospital visit.
Healthcare providers need to accept this payment in a timely manner and by providing the convenience of mobility, they can do so right where the patient is. The challenge comes in when these innovative solutions are not safe to be used in a hospital's care zones as they might carry microbes that can cause infections. However, mobile POS solutions treated with antimicrobial protection can help providers break this barrier and cater to their patients wherever they are without worrying about the spread of infectious diseases to other patients, family members or staff.
Secure Payment Acceptance
When a patient makes a payment, it should be without concern for the safety of payment card data.
Like other industries, payment security needs to be a priority for healthcare providers. Of all the worries patients may enter a healthcare facility with, payment security should not be one of them. Facilities should be equipped with modern solutions that accept all the latest forms of electronic payments including EMV and NFC/contactless. Providers also need to take a multi-layered security approach for their payment infrastructure to better protect sensitive patient information from cybercriminals. In addition to EMV, this approach includes point-to-point encryption (P2PE) which encrypts payment data while it is in transit. The other piece in this approach is tokenization that helps protect sensitive cardholder information at rest. When used in tandem, this not only ensures the security of transactions that take place in a hospital or clinic but also helps enhance the patient experience by using modern payment solutions.
Patient Experience is Key
A good healthcare provider considers more than just treatment. Are the patients comfortable? Do they know their data is safe - personal and payment-wise? Do they feel they have access to convenient services throughout their stay? Ensuring a good experience for patients and their friends and family can set apart one healthcare facility from another.
Learn more about how you can improve patient experience in your hospital or clinic with healthcare technology by getting in touch with us.
Brandon Zauche is a Sales Executive at Ingenico Group, North America