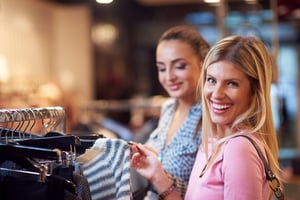 Expectations for the in-store experience have greatly evolved in the last few years alongside changing payments technology, online options and more. Customers assume they'll be met at each touchpoint with convenience, speed and innovation, and -- if you want to keep up with competition -- you need to anticipate these needs.
This can start with how you utilize your technology -- but many retailers still have questions. What's new in payment solutions? What's the value of apps? How useful are mobile options? Choosing the right technology depends on your specific store needs and goals.
Here's where you can start:
1. Learn from Your Customers and Evolve with Them
Business intelligence can turn a good store experience into an excellent one. By collecting, analyzing and acting on customer feedback, merchants can evolve their practices, whether it's growing their product lines or improving the in-store experience.
Merchants can accomplish this with prompts on payment solutions that ask customers short, multiple-choice questions while they pay. For example, merchants can ask their customers about the in-store experience or level of satisfaction, to understand what shoppers expect from the brand. Or they can gather data from online interactions to learn what customers want more or less of and what they want to see next. Giving customers the opportunity to give feedback in an efficient way helps to ensure they feel heard, and you can further refine your in-store strategy to better serve them.
2. Build Stronger Connections with the Customer to Create Loyalty
Emotionally-connected customers spend close to twice as much as non-connected customers annually, and likely to spend more on the best fashion products. Loyalty programs can create that bond between customers and a store -- in fact, 63 percent of Gen Z shoppers will not commit to a brand that does not offer loyalty benefits. By allowing customers to earn points with their purchases, receive digital coupons and feel that they're benefiting from loyalty, you are building the foundation of an emotional connection.
You can tap into customer emotions by fulfilling their needs and improving their experiences at all touchpoints. This can be as simple as sending them an exclusive 10 percent off coupon for being a loyalty member. They'll also become your biggest advocates -- they're twice as likely to recommend your brand to friends and family. Invest in building connections with customers through strategies like loyalty programs and they'll be motivated to come back to the store again and again.
3. Accept Alternative Payment Methods
Payment methods have changed immensely: customers can insert a card, wave a watch or tap a phone. There's no limit on the ways to pay now, and with consumers now getting used to mobile wallets in the market, it is only a matter of time before they expect to be able to pay via other alternative methods as well.
To prepare for this, you need to ensure no customer feels excluded (and no purchase goes undone) by accepting all payment methods -- and make that clear with signage. A customer wants to pay with their card? Of course, you accept that. They want to use a payment-enabled key fob? You accept that, too.
4. Use Apps to Boost Your Business
Every business, especially a small business, needs tools at their fingertips to help create large business impact. Whether they use ERP software to manage your business or use apps such as inventory management, employee timesheets, digital receipts, etc. to create efficiencies. They can easily enable their payment solutions to help make this possible.
As employees walk in, they can clock in on a payment solution and the business owner will know exactly how much time they've worked for the week while streamlining their business processes. Other apps can assist owners in capturing additional information from customers, such as phone numbers or email addresses that can be used to opt-in to newsletters and promotions or to send digital receipts.
5. Incorporate Mobile POS to Engage Customers Across the Store
Mobile POS can be a game-changer for the in-store experience. While employees typically interact with customers at the counter, mobile POS can bring that engagement in-aisle or anywhere in the store. Not only can this help with line-busting, employees can also provide customers with product information or availability with just a few taps on the screen.
Mobile POS is designed with speed and convenience in mind -- key interests of customers. It also gives employees the chance to upsell complementary items in a one-on-one setting. This technology can really help with staff efficiency, and -- if it fits in with your business goals -- bring a whole new feel to your in-store customer experience.
As technology evolves, so do opportunities. These strategies can help to improve customer experience, business practices, store efficiency and more. Be sure to take advantage of these strategies and use payment technology to get an edge over competitors. If you're looking to learn more about the next generation of payment solutions that can help you achieve these, contact us to get started.
Ryan Ahern is Payments Solutions Manager at Ingenico Group, North America