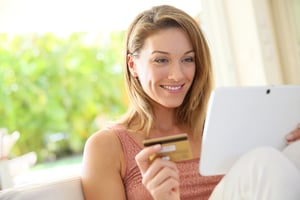 Online shopping reached new highs in 2019 -- 93.2 million consumers shopped online this Black Friday and 83.3 million on Cyber Monday, according to NRF. This past holiday season is just one indicator that online sales are experiencing growth across the retail industry: a recent McKinsey Study found that 60 percent or more of consumers in Germany, the U.K. and U.S. shop online and in-store equally. This increased interest in online purchases can be attributed to a number of factors, including convenience and speed and online sales have become a major part of retail year-round. While in-store retail is far from dead, the most successful retailers are taking the immense growth of online shopping into consideration for the coming year. Here are some online-experience-enhancing strategies to incorporate into your retail strategy for 2020.
Optimize Your Online Store for Smartphones
According to Adobe Analytics, online sales via smartphone accounted or 33 percent of all online sales this Cyber Monday -- a new record. Not only are they using mobile phones to shop, they're using them to track order status, browse online, make purchases, check and compare prices and find store locations. With such a high volume of customers using their smartphones for online shopping, retailers should be optimizing their websites for mobile devices by:
Designing an easy-to-navigate and intuitive interface. When shopping on their mobile phones, customers should have no trouble sorting by category, price, color, size and more. Their experience should be seamless. Most importantly, their checkout should be as quick and easy as possible to avoid shopping cart abandonment.
Providing readily available coupons, reviews, promotions. Clear banners describing discounts and promotions on the mobile interface are an excellent way for customers to feel like they're getting a deal -- and can oftentimes be that extra push they need to hit "order." Putting these deals at the forefront of the shopping experience gives customers more incentive to buy.
No customer is going to spend time navigating a clunky, desktop-optimized site on their mobile phone. The easier it is for them to find what they want, including products, coupons and check out, the more likely they will be to seal the deal.
Take This Time to Learn About Your Customers
With this influx of online shoppers, many platforms offer the option to collect customer data as they shop. Data-driven intelligence can help optimize your store strategies by answering certain questions: What are customers buying? What are they paying with? What makes them spend more? What makes them spend less? Retailers can use this data to make the online shopping experience better and can start maximizing potential by:
Exchanging rewards for data. The Deloitte 2019 Holiday Survey of Consumers found that promotions, discounts and other offers are the number one thing people want from retailers in return for sharing their personal information. Offers for preferential treatment like faster customer service (34 percent) and faster checkout (31 percent) were a distant second and third. Make sure customers feel valued and appreciated for sharing their details.
Using collected data to personalize the customer experience. For example, data like customer browsing history, sizes and preferred brands can be used by the online store and in-store employees alike to provide personalized suggestions to customers while shopping.
Collecting and using this data correctly can ultimately help retailers to create an emotional connection with customers. If they feel their emotional needs are met each time they shop at a store -- whether that be in the feeling they get when they visit or the ease with which they find the products they want -- they'll be sure to come back. Well-used data-driven intelligence leads to lifelong customers.
Incorporate Foreign Exchange Best Practices
The online space is an international marketplace and retailers should keep this in mind when designing their websites and mobile apps. Picture this: a French student visits a U.S. based online store and fills his basket with products. When he gets to the checkout, the price is only listed in U.S. dollars. How much will that be in Euros? How much extra will the currency conversion be? Unsure, he closes out of the website. When faced with uncertainty, consumers are likely to abandon a basket during checkout. In fact, Ingenico research found that 25 percent of consumers leave within the first few seconds of visiting a website if it doesn't offer prices in their local currency. To combat these sorts of uncertainties, make your website more international friendly by:
Providing the option to change pricing to a different currency in a way that's easily accessible. Country flags and well-labelled dropdown menus in conspicuous locations are a good start for customers to dictate their own shopping currency.
Connecting with a reliable payments partner to share insights into foreign exchange methodology. and currency conversion mechanics, so you can create seamless international pricing. A good partner can deploy strategies that lead to increased international conversion.
Speaking to customers in a language that resonates with them is key -- especially when it comes to their wallets. Working to make your online presence internationally friendly is the first step to ensuring nobody is excluded or feels uncertainty at the point of checkout.
Customers across the globe want to feel personally catered to and have a frictionless experience. They want to navigate easily, be rewarded for sharing personal details and understand how much they're paying. Utilizing these tactics can help retailers accomplish this and help them to earn more revenue along the way. With 2020 coming into focus, these strategies are a great start to making your online and – with the growth we've seen in omnichannel -- in-store experiences as successful as possible in the coming years.
If you're interested in optimizing your strategies for different channels, drop us a line!
Michael Bilotta, Director of Account Management, North America, Ingenico ePayments