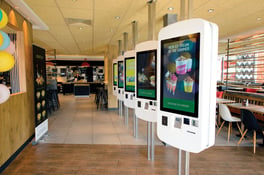 According to a new report by Tillster, the self-service kiosk market is expected to reach an estimated $30.8 billion by 2024, with a significant portion of that growth coming from the food and beverage industry. Quick Service (QSR) and fast-casual restaurant chains continue to make headlines about plans to implement kiosks or touting success stories such as Panera's.
Slowly, but surely, self-service technology is beginning to assist us with many tasks in our lives. Whether we buy a subway ticket at a train station or check-in at a hotel, consumers around the globe are increasingly getting familiar with the technology. As consumers start to experience the convenience self-service kiosks offer, they will also start to expect it in other industries, including restaurants. In this blog post, we'll look at the reasons why QSR and fast-casual restaurants are adding self-service kiosks to their in-store operations.
Customers Like Kiosks
The Tillster study reports that growing customer acceptance of self-service kiosks is helping to propel this growth. In 2018, 37 percent of QSR customers reported using a self-service kiosk, a 20 percent increase over the previous year. The study also found that 67 percent of customers plan to place an order with a self-service kiosk within the next year, a 25 percent increase over the previous year's response.
Line busting is frequently cited as a reason why restaurants are installing kiosks, and the research bears this out. If the line length is longer than four people, customers said they would prefer to order from a self-service kiosk rather than a cashier. And if lines at the kiosk and the cashier are of equal length, 30 percent of customers would still prefer the kiosk option.
Kiosks Speed Up Ordering
If throughput during busy times is a problem, self-service kiosks can be the answer. They can help you serve customers efficiently at the busiest times of day. More important, kiosks are just faster at any time of day, reducing total order time by as much as 40 percent in the quick-service context. Customers get their food faster and the restaurants can serve more guests in the same amount of time.
Self-Service Orders Are More Accurate
Was that no pickles, extra onion? Or no onion, extra pickles? Today, 72 percent of customers expect to be able to customize their orders — but they are more comfortable doing it in front of a screen. Putting control over ordering in the hands of customers can go a long way toward increasing order accuracy, particularly when the orders are highly customized. Moreover, self-service gives customers higher confidence that they will get what they ordered, which translates to higher satisfaction.
Operations Are Improved
With the speed and convenience that they offer, kiosks can improve the overall operations of a restaurant, from traffic flow to staffing. In essence, kiosks automate ordering, which can re-allocate personnel resources for higher value activities, whether that is food prep or keeping the restaurant clean. Or, without adding staff, you can add new services such as table delivery.
Check Values Are Higher
A kiosk will always remember to upsell and cross-sell complementary items, and it will do it accurately. By consistently presenting additional options to customers, kiosks can help boost the average order amount and overall revenue. And then there's the human factor — people are more comfortable ordering more when they don't have to have one-on-one interactions with a person who might judge them. One case study showed a 21 percent increase in orders placed via a self-service kiosk, with 1.4 times more items in the cart at checkout. That added up to at least $5 more per transaction.
You Meet Customer Expectations
People are used to self-service. They withdraw cash from ATMs, pump and pay for their own gas, and retrieve their own boarding passes at the airport. As the world continues to digitize, QSR and fast-casual restaurant customers expect the same convenience and experience when it comes to ordering their food. Self-service kiosks can help brands stand out in a crowded marketplace as well as improving operations and sales.
If you are not sure whether self-service kiosks are right for your restaurant business, get in touch with us to speak with our experts.
Bruce Rasmussen is Director of Sales, Strategic Verticals at Ingenico Group, North America