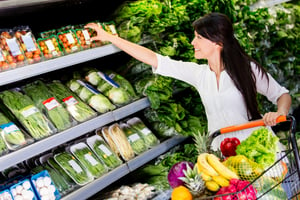 When you think about the in-store experience in a grocery environment, the speed of checkout and convenience to the customers has helped many businesses grow. New technology has enabled grocers to increase throughput and provide convenient checkout options such as self-service, curbside pick-up, contactless, etc.
What has gained more traction in recent years is the use of data and business intelligence to grow a grocery business and build customer loyalty. By collecting data that shows which products are being purchased consistently by customers can help grocers in many ways. From predicting what customers are about to buy to building strong loyalty programs, data and business intelligence is critical to growing your grocery business. Let's take a look at a few ways this can help grocers:
1. Predictive analytics and improving operations:
By leveraging historical purchasing data and external factors such as weather, grocers can effectively predict customer demand for products and improve their operations. For example, past data may suggest that hot dogs are a popular item in the summer as outdoor barbecue and grilling activities are at a high on sunny weekend days. By collecting the information on the sale of barbecue related purchases over time, grocers can look to increase the supply and even offer better variety to their customers in the future. Stores can even personalize offers, discounts and send them to customers in the form of emails or push notifications. They can also look to place these high demand items in strategic locations within the store for easy access and potential impulse buys. This not only meets customer demand and helps make store operations more efficient, but also enhances the overall shopping experience.
2. Leveraging technology
Data is only as meaningful as the technology that helps leverage it. Grocers can take advantage of cutting-edge solutions that use this information to help customers. Whether it is the staff equipped with a mobile POS solution that assists a shopper with inventory information on produce or a self-service kiosk that suggests meals with quick secure checkout. In-store technology is becoming more sophisticated not just in improving store efficiency but making sense of this data to provide meaningful customer experiences.
3. Helps build customer loyalty
According to a recent Emerging Trends study by Hanover Research, 75 percent of consumers want rewards for everything and 70 percent want to apply rewards directly to purchases. With data and information on their customers, grocers are better positioned to provide meaningful rewards and serve in the best way possible. This includes providing loyalty points for frequent purchases, or simply ensuring certain items that customers are regularly purchasing are kept in-stock. Another way for grocers to build loyalty is by accepting mobile wallets and integrating it with value-added services (VAS). This makes it easy for customers to enroll in loyalty programs and redeem their points as the system securely uses the information from the mobile wallets. This can also allow grocers to push personalized coupons and discounts directly to their customers. By implementing VAS into their mobile wallet acceptance, grocers also enable further data collection that provides additional opportunities for them to engage with their customers.
Retailers are no stranger to using analytics to refine their business strategies and find opportunities to provide a more meaningful experience for consumers. Grocery is no different and they need to capture good information that helps them understand where the customer is in their buying journey. Being an essential business that is part of a customer's routine, they have access to a lot of insights that can help make shopping easier, convenient, faster and meaningful.
If you are looking to understand how you can take advantage of data and business intelligence to providing a better shopping experience to your customers, get in touch with us and speak with an expert!
Justin Gentile is a Sales Executive - Tier 1 Retail at Ingenico Group, North America