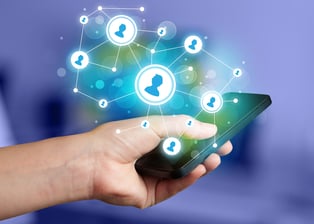 Proving your identity is typically done in just a few ways: with a license, a passport or a social security number. This may soon change with the introduction of digital IDs.
An ID is typically a collection of attributes unique to a person for identification purposes. A digital ID, also called an e-ID, contains this same information, but instead is housed on a device such as a mobile phone, linking the physical to the digital.
This technology can have a major impact on identity for three main groups: the government, retailers and consumers. Digital IDs are government-issued and can be used for verification for typical government services, like the DMV. But the purposes extend beyond that. Consumers can use this technology in place of a physical ID for financial services, healthcare or even at retailers like the liquor store. Instead of pulling out an ID at checkout, consumers can scan their digital ID on terminals equipped with NFC capabilities
Digital IDs can change the way consumers share their private information - but how different is it from physical IDs? Here are some of the many ways consumers will benefit from using digital IDs in the future:
Data Privacy
The Traditional ID Experience: A young woman is in the gas station purchasing a lottery ticket. The cashier checks her ID for her age, but also reads her address, noting that they live on the same street. He mentions it to her and suddenly she is uncomfortable with the experience.
Digital IDs offer privacy by design: Certain transactions that are age-restricted or otherwise may require proof before purchase. While a traditional ID shares information like full name, address, birthday and more, a digital ID will only share the information necessary to make a purchase. This is known as data minimization. A recent survey by KPMG found that fewer than 10 percent of customers felt they had control over the way organizations handle and use their data. Digital IDs give them definitive control over their own personal data by sharing just the essentials.
An All-in-One Mobile Experience
The Traditional ID Experience: A man has volunteered to bring sparklers and fireworks to his friend's 4th of July party tomorrow and gathers them at the store. He's prepared to pay with his digital wallet, but realizes he left his real wallet - with his ID in it- at home. He's unable to complete the purchase.
Evolving terminals and applications have slowly slimmed down the wallets of consumers, and digital IDs may be the missing piece for consumers looking to go completely mobile. Digital IDs are government-issued and approved forms of identification that can eliminate the need to carry a license or passport, which could finally make a wallet-free lifestyle attainable.
Reduced Wait Times
The Traditional ID Experience: A young man is picking up some beer at the grocery store. He heads to self-checkout but is only allowed to use two lanes with ID scanning capabilities and the lines are extremely long. Impatient with the wait, he puts the beer back and heads to a liquor store instead.
When it comes to shopping for certain items, identity verification can create roadblocks in the experience. Some stores limit consumers to specific aisles that can scan their licenses, or customers must wait for an employee to come over and check the authenticity of their ID before they purchase restricted items on the terminal to avoid any liability. Digital IDs can cut out these cumbersome experiences with any terminals that have NFC capabilities, which can greatly reduce transaction times.
Seamless Online Retail
The Traditional ID Experience: Late at night a woman is shopping online at a store her friend recommended, and her cart is full. She begins the checkout process but is annoyed by all the information she has to provide. Instead of filling out the fields, she shuts her laptop - it was probably a frivolous purchase anyway.
Online shopping is built with convenience in mind, but when it comes to entering fields upon fields of personal information to check out, many customers lose interest. One report found that 26% of online shoppers have abandoned carts because the checkout process was too long or complex. A digital ID can automatically fill the required fields with a shopper's information, cutting out any tediousness in the checkout process. While a mobile wallet provides similar features online, a digital ID can help provide further verification that the purchase is indeed being made by the cardholder.
While digital IDs are still in development, they're set to make a big impact on everyone - especially consumers and retailers. This impact can bring many benefits to consumers, like data minimization, a mobile experience, convenience, and simplified online shopping. As this technology slowly rolls out, more use cases may emerge that can change the way we do identity altogether.

If you'd like to learn more about the future of digital IDs, get in touch with one of our experts!
Christopher Tyghe is Vice President of Strategic Development at Ingenico Group, Canada