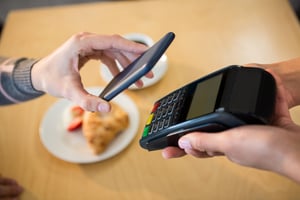 Building loyalty isn't just about gaining new customers but providing an experience for the existing ones to keep coming back for more. Mobile payment applications have created a tech-savvy way of engaging customers while providing a range of benefits for both them and the retailer.
A prime example of a successful mobile payments app is Starbucks. Until last year, the company's innovative in-store application was a dominant method to pay in all Starbucks locations across the U.S. One of the big reasons that worked so well for Starbucks was because they had loyalty at the center of it all. Customers pay using their Starbucks app and receive points for every purchase. Once they accumulate enough points, they can redeem them for a free beverage or snack of their choice.
Inevitably, Apple Pay recently passed Starbucks to become the most popular mobile payments app in the U.S. Over 30 million people use Apple Pay and about 70 percent of U.S. retail stores will be equipped to accept this payment by the end of the year. Businesses of all sizes and across verticals should take advantage of the market for mobile proximity payments as it continues to be on the rise. Here's how:
1. Speed of Checkout.
Whether they are buying a coffee or shopping for groceries, getting in and out of the store without wasting time is critical for today's busy consumers. Every bit of efficiency provided to customers makes them happier and more likely to come back. Accepting mobile wallets such as Apple Pay and Google Pay can help speed things up at checkout, ideal for people on the go.
2. Familiarity with Smartphone Usage.
The modern consumer carries around a smartphone at all times and uses it for anything ranging from storing travel boarding passes to listening to music. Why not use it to pay? Consumers are no stranger to this technology and are likely to adapt to using their smartphones for payment because the process is easier than taking out a wallet and looking for a card or cash. It also ensures that consumers can make purchases even if they forget their wallets at home. This convenience could be critical to the customer and attract more of them to adopt this new method of payment.
3. Loyalty Programs.
Similar to the Starbucks example, mobile wallets today enable businesses to integrate their own loyalty programs via value-added services (VAS). A customer already using Apple Pay or Google Pay at a particular store can easily enroll and participate in a business' loyalty program without even pulling out a loyalty card. Accenture's Driving the Future of Payments report discusses how 76 percent of the survey respondents want to redeem deals tied to their cards when using it at the POS. Using mobile wallets to drive loyalty signup and usage can open doors to personalized offers which can help increase average consumer spending. This makes keeping up with loyalty effortless and avoids adding more physical cards to the customer's wallet.
Mobile wallets should drive increased loyalty signup and usage, which then opens the door to personalized offers. This can be in the form of discounts, incentives, or even free gifts. In order to receive the benefit, customers must continuously shop at this retailer. These rewards generally increase customer spend and satisfaction, resulting in life-long loyalty to the brand.
Customer loyalty is at the core of any business and accepting mobile wallets could be a game-changer. Loyalty can be built by taking advantage of the benefits of mobile wallets, such as loyalty programs that lead to customer rewards. Considering the existing familiarity with smartphones and the potential for seamless checkout, it is clear why consumers should be eager to adopt mobile wallets. Looking to get started with building loyal customers? Get in touch with us.
Ryan Ahern is Payments Solutions Manager at Ingenico Group, North America