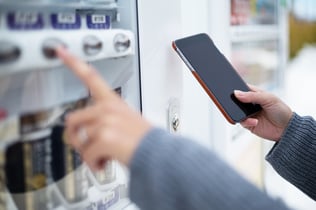 When the COVID-19 pandemic hit the U.S. early this year, many restrictions were put into place and among other safety measures, merchants that remained open started encouraging customers to use contactless payment methods. While other parts of the world were already familiar with the benefits of this payment method, the adoption in the U.S. had been growing at a very slow rate. However, the pandemic acted as a catalyst and now it's widely being used by merchants and consumers alike. This was the turning point for contactless payments in the U.S., but I think this will also be pivotal for the adoption of self-service solutions and a growing range of use cases.
While vending and kiosks solutions have existed for a long time, the pandemic has encouraged merchants to offer these solutions to their customers. As shoppers practice social distancing, they look for easier ways to buy things that minimize their interaction with other people (both customers and staff) and this is where self-service solutions come in handy. In my conversations within the industry, the demand for self-service solutions is growing, especially during the pandemic because of the following benefits it provides:
Social Distancing: Kiosks and vending machines are self-sufficient and allow for effective social distancing. Self-service solutions are great at helping customers make their purchase of a product or service without a consultative experience allowing the whole process to be more efficient for the merchant and safer for the customers. While the customers would still need to safely queue to use the kiosk or vending machines, it still minimizes potential interactions with other shoppers or staff.
Flexibility: Self-service solutions also enable merchants to not be bound by business hours. Vending machines and other kiosk solutions can operate at any time of the day or night providing customers with flexibility so they can shop on their own time.
Improved Customer Experience: Customer tastes and preferences are changing constantly, and providing them with new and unique experiences can help build trust and loyalty. Self-service solutions provide businesses with the opportunity to serve their customers in many different ways to help improve their shopping experience.
While the benefits of self-service solutions are clear, this technology has been underutilized in the past. As technology advances and solutions become more sophisticated, there are a lot of future applications that I feel will make this offering a great business investment:
QR Codes: With the addition of cameras in self-service solutions, merchants will be able to better engage with their customers by using QR codes in many forms including payment method, couponing, facilitating enrollment and use of loyalty programs, etc. This will not only help provide customers with a new way to pay but will also help to build loyalty.
Artificial Intelligence (AI): Consumers are becoming more comfortable with personal assistants like Siri, Alexa, etc. that are powered by AI and their familiarity with self-service solutions is also high. A combination of the two can help improve customer satisfaction and also curb cart abandonment. These self-service solutions with built-in AI will be able to interact with customers and answer many questions to help them through their shopping journey while reducing friction.
Web & Cloud Apps: Kiosk solutions will also be integrated with web and cloud-based apps that the consumer can control via their smartphone, giving them the power to guide their own experience. This provides merchants with the ability to provide customizable experiences to shoppers while helping them get what they are looking for. This connectivity to smart applications also enables the kiosk operator and merchant to get real-time feedback on the transaction as well as enhance the telemetry of mining data in the transaction stream. This can be used by merchants to refine future strategies.
Authentication: Self-service solutions that integrate well with smartphones will also change the way authentication will work. Similar to multi-factor security tied to your online accounts where you may get a one time password (OTP) on your phone to confirm your activity, this connection between the smart device and the self-service kiosk can be used to verify the authenticity of the of the person using it. If a customer has ordered groceries for in-store pick up, the locker kiosk can send an OTP to the account holder's mobile device to verify their identity.
This is the turning point for self-service solutions. They can provide businesses and consumers with a myriad of benefits, especially during the COVID-19 crisis. They enable merchants to offer customers with unique shopping experiences and help them shop when they want to while practicing effective social distancing. If you are looking to get started or upgrade your self-service solutions strategy, get in touch with us and learn more.
Bruce Rasmussen is Director of Sales, Strategic Verticals at Ingenico Group, North America