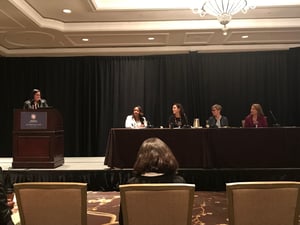 It was a privilege to join senior executives from Wells Fargo, Mastercard and Visa in a timely panel discussion on "The Future of Tap & Go: Shaping the New Consumer Experience" at the Women in Payments 2020 U.S. Symposium on February 11th.
I was pleased to share that at Ingenico we are clearly seeing momentum and a strong interest in contactless payment among our gateway and ISV partners and across the payment ecosystem. As recently as 18 months ago, this was often a niche conversation in the industry, but today accepting contactless cards and mobile wallets (Apple Pay or Google Pay) is table stakes. Gateways and ISVs are stepping up with the software and support that merchants need to adopt this technology.
Consumers that use contactless cards are enthusiastic
In fact, according to a recent study sponsored by Ingenico and FreedomPay, 84 percent of businesses surveyed accept contactless payments today, and 74 percent of consumers who use contactless payment methods say they make checkouts faster and easier. But the study also found that there's a gap: only 37 percent of consumers are aware of or are using contactless cards.
I and the other panelists agreed that "tap and go" transit initiatives provide the strongest opportunity to increase consumer awareness. These programs let riders tap a contactless card or smart device at the turnstile to a metro transit system instead of having to buy a transit card. The simplicity is compelling – riders can use a card or mobile device they already carry and avoid having to load value onto a transit-specific card. My fellow panelist reported an increase in contactless card usage at surrounding merchants after the New York Metro Transit Authority's contactless payment program was in place.
Security concerns impact adoption rates
In addition to a lack of awareness, security concerns are affecting adoption rates. Although contactless payments are one of the most secure ways to pay, 73 percent of consumers in our study said that concerns about security stand in the way of adoption. The best way to address the fear of the unknown is simple – people having a positive experience very naturally address these concerns over time. For example, when a person with security concerns sees fellow transit riders enjoying the ease of using their own credit or debit card to "tap and go", they'll logically infer that contactless payments are secure and be more likely to give it a try. Consumer education contributes to improving adoption rates, as well. Merchants can help with awareness by using the door and POS stickers they receive from card issuers that say they accept contactless payments. My fellow panelist reported seeing an increase in contactless card usage when the contactless payment logo is displayed.
Issuers are (gradually) bringing contactless cards to the marketplace
Another factor is the availability of the cards, which are expensive to roll out. That's why banks and other issuers are waiting to provide contactless cards to consumers at renewal. Some issuers are focusing card rollouts in large urban areas and in cities to capitalize on the usage and adoption opportunities presented by "tap and go" transit initiatives
Now is the time for midsize and small merchants to adopt contactless
The takeaway is that when consumers have the cards and a reason to use them, they do. That's why gateways and ISVs need to convince their midsize and smaller merchant customers to accept contactless payments. Gateways and ISVs are also in the position to help merchants take contactless to the next level and integrate loyalty features via value-added programs.
ISVs are in the right place to make it happen
The audience at the panel session was interested to learn that typically four to six companies are involved in getting a payment solution into a retail store – from the payment terminal manufacturer to the distributor, to the deployment company, on one end and the gateway and acquirer on the other.
In the middle of all this, sit our ISV partners, who develop and customize the POS software. Contactless payments present a great opportunity for ISVs to offer merchants a reason to refresh their POS systems so they can begin accepting contactless payments.
Learn how Ingenico helps ISVs quickly integrate secure contactless-ready payment acceptance into existing software and applications, or get in touch with one of our experts.
Erica Eby is the Head of Channel Sales at Ingenico Group, North America