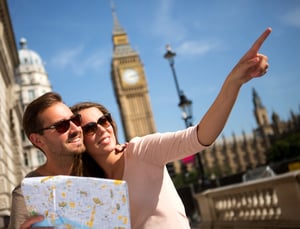 It's been estimated that the global luxury travel market will generate $1,614 billion by 2026, and for many in the hospitality industry, this is a great opportunity for growth. To tap into the needs and desires of adventure and luxury travelers, it's important to consider how businesses can leverage innovative payment solutions that can help make their trip planning and experience as seamless as possible.
According to the Luxury Travel Study by PYMNTS and Flywire, 45 percent of adventure travelers believe innovative payment solutions would make it easier to pay for vacations. With travel and booking costs top-of-mind for many travelers, making payment simple and easy can be what brings them back to a certain service over and over again. Here are some ways to make payments a positive experience for adventure and luxury travelers:
Offer Convenient Ways to Book and Pay
Making sure the customer has options for payment is quickly becoming an important part of sealing the deal in travel: One study showed that one in every five millennials would abandon travel booking processes if their preferred payment method was not offered. This can range from what method they're using to pay to how soon they're expected to pay. Nearly 60 percent of adventure vacation travelers and 56.7 percent of luxury vacation travelers said they would take more trips if they could use innovative payment solutions like fare-splitting, recurring payments and more. With vacation rental companies like Airbnb already offering ways for customers to easily split the costs of lodging, more traditional organizations in the travel and hospitality industries need to keep pace.
Another option that can stand out to travelers looking to spend is Buy Now, Pay Later. This flexible payment option spreads out purchases into multiple easy payments and can make paying for a trip significantly less stressful and wallet-draining. Successful companies, like Expedia, already offer this option for travelers who don't want to pay for a hotel reservation upfront.
Enhance Payment At the Front desk
About 76 percent of consumers named their mobile device as their number-one travel accessory, and luxury and adventure travelers are no exception. Allowing guests to use a dedicated mobile app for room booking, check-in and more can simplify their travel experience. With 383 million people worldwide using Apple Pay, many hotels are looking into accepting mobile wallets at check-in as well.
An additional way to bring innovation to the front desk is by offering self-service solutions, such as kiosks – which a lot of travelers are already used to seeing at hotels. A big part of a positive travel experience is ease, and kiosks help to bring several services into one: check-in, reservation review, room changing, RFID key programming and more. In fact, a recent survey found that 78 percent of travelers would like to see self-serve kiosks available for check-in.
Make paying during stay easy and convenient
These simple and effortless payments can even extend beyond the point of booking and check-in. A good way to bring ease to travelers is by offering RFID cards that can be used to pay throughout a stay. They can be used anywhere to pay on hotel grounds, whether it's through a hotel staff member's mobile POS or on a fixed POS solution in the hotel gift shop.
Hotels can also revamp their loyalty programs to collect data that can suggest certain services to guests based on their known tastes and preferences. This makes upsells seamless, provides guests with more experiences they'd like and can easily be done with a payment option already available in a dedicated app or on an RFID key card.
Luxury travel, in addition to regular travel, is rising every year and as a result, hotels and lodging businesses will continue to see a greater number of guests coming in. By making the payment acceptance process smart and simple, you can start enhancing the guest experience even before they reach their destination. Options like Buy Now, Pay Later are just at the tip of the iceberg in making meaningful connections with your guests and building loyalty.
If you're interested in learning more about innovative payment solutions that will attract luxury and adventure travelers, get in touch with one of our experts!
Mike Ryan is Senior Sales Executive, Ingenico Group, North America