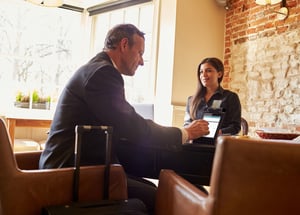 According to a report from Deloitte, business travel spending was at $1.2 billion in 2015, and in its recent report, Business Travel News mentions that travel spending is expected to increase by 6 percent in 2018. The Deloitte report also highlights that leisure travel spending has also been on the rise over the last few years. The bottom line is that with number of travelers increasing every year, so will the expectations of good hotel service. Any small changes to technology can make or break a guest's experience, and the check-in process is the first point of contact between the guest and the business.
The hotel & lodging industry has been using the same technology to check-in guests for years. Travelers walk in through the doors to the front desk and begin the check-in process. Long lines at the front desk can be frustrating for busy business travelers as well as guests on a leisure vacation. The guest's experience can also be hampered when their keycard doesn't work after reaching their room.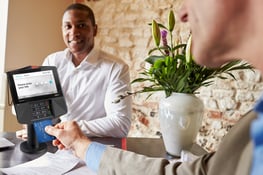 It'll be wonderful for guests if they are able to check-in while they're in the shuttle from the airport, when they arrive at curbside or virtually anywhere your staff might greet them on the hotel property, wouldn't it? It would also be great for guests to be able to get their room keys re-programmed without having to walk back to the front desk.
Hotels are always looking to enhance their guest's experience while they stay at their properties, but it should begin with the check-in process. Payment solutions can enable improvements by not only accepting secure payments but programming and reprogramming RFID key cards. These solutions equipped with RFID capabilities have many benefits for the hotel & lodging owners:
1. Front Desk Reimagined: Save space and money
Every guest starts their stay at the hotel front desk – it's the gateway to the rest of the hotel. It's also where space is often limited and sometimes dictates technology choices. With the latest payment solutions, the front desk doesn't have to be cluttered and doesn't need separate devices for accepting payments and programming room key cards. A single payment solution with RFID capabilities can perform both functions, which frees up desk space and eliminates the cost of buying and maintaining additional devices to program key cards. Essentially, these solutions pay for themselves.
2. Enhance Guest Experience: Remote check-in
The hotel check-in process is often time-consuming and can negatively impact a guest's first impression. With mobile POS solutions and RFID technology, hotels can take the check-in process right to the guest. Staff can use remote check-ins as a line-busting tool during high volumes of arriving guests or use it to check-in at any other location.

For example, a guest could be in an airport shuttle arriving at the hotel, and a hotel employee can easily provide a check-in process and program room keys while in transit. This way, the guest can go straight to their room upon arriving at the hotel. Remote check-in also allows hotels to remove the front desk entirely and simply check-in guests anywhere in the lobby. For hotel & lodging businesses, this creates an opportunity to provide a new and personalized experience, while casually up-selling upgrades and other amenities during the process.
3. Improve Efficiency: Self-service kiosk
Improve hotel efficiency and cater to busy travelers who just want to check-in and be on their way by streamlining the check-in process. This can be achieved by implementing unattended kiosk solutions. These self-service digital kiosks allow guests to review their reservation, make any edits, complete a check-in and program their room keys—all without the need for an employee to help them. This reduces staffing requirements, saves costs and provides an opportunity to engage guests on their terms, at a different touchpoint.
Payment technology is constantly changing, and businesses need to adapt theirs to it. Hotel & Lodging business owners should leverage the full potential of their payment solutions and look to gain the benefits of using these technologies for more than just accepting secure payments. If you're looking to enhance the guest experience in your hotel, get in touch with us!
Bob Arsenault is Sales Executive at Ingenico Group, North America