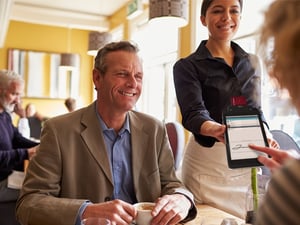 There are a lot of moving parts within a restaurant, from serving great food and providing top-notch service to ensuring a positive guest experience. In today's digital age, the tech industry has found a way to streamline a lot of these processes, ultimately improving operations and customer satisfaction. And they're doing it through Pay-at-the-Table solutions.
Pay-at-the-Table solutions used to be just that — payments. Now, restaurants can benefit from fully-integrated systems that incorporate customer-focused services including live menus and bills, ordering options, loyalty, service ratings, payment and tips. They also offer business-oriented services like data analytics, inventory and ordering, staff management and more. With all of these capabilities, there are many opportunities restaurants to bring these intelligent solutions to their customers and streamline their operations.
While Pay-at-the-Table hasn't been the norm in the U.S. thus far, this is becoming a more realistic path for many restaurants. With constant innovation in the industry, the expansion of capabilities isn't the only thing that's changed.
Solutions for Every Scenario
Restaurants have seen implementation of these systems to be a challenge because they worry they'll have to do a major overhaul of their payment infrastructure. The good news is there's a variety of Pay-at-the-Table solutions that make finding the right fit easy. A restaurant that has a legacy system in place but wants to add Pay-at-the-Table as a feature can take advantage of many solutions available in the market.
Meanwhile, a restaurant that hasn't opened yet might benefit more from an all-in-one solution available in the market. With many great solutions available and new ones emerging, restaurants can benefit from Pay-at-the-Table no matter their situation. And while integration may sound daunting, providers are partnering with the experts to make on-boarding simpler for the restaurant.
Compliance with EMV Chip Technology Standards
Security is always a concern, especially for payment transactions where customer information is at risk. With the U.S. now primarily using EMV chip technology to protect against counterfeit card fraud, many restaurants have been looking for a way to accept chip cards within their unique environment. Pay-at-the-Table allows them to do this while giving the customer more control because they never lose sight of their card. As more EMV-compliant solutions come to market, this will be a big selling point for this tech. And as a bonus, many of these newer solutions are equipped to accept all of the major payment methods — mobile and contactless payments (such as Apple Pay and Google Pay) included. This gives restaurant guests more choice in how they pay, and therefore a better overall experience.
A Full Range of Back-End Benefits
With the new features of Pay-at-the-Table, there are many benefits restaurants haven't realized:
It's a differentiator.

The enhanced experience can be a draw for guests, making the more innovative restaurants a top choice.

Data analytics.

Restaurants can use data collected through the Pay-at-the-Table system to evaluate operations based on most popular dishes, busy periods, average table turnover time, inventory and ordering and a lot more.

Live updates through the cloud.

This allows restaurants to keep menus updated. For example, if the kitchen runs out of an ingredient, the restaurant manager can take options off the menu in real time.

New efficiencies.

Servers don't have to spend time shuffling credit cards back and forth, freeing them up to focus on food delivery and customer engagement. This also increases table turnover.

Increased opportunity for profit.

With tables freed up sooner, restaurants can serve more guests. (Check out this ROI calculator to see just how big of an impact this can have.)
Pay-at-the-Table has evolved from a way to accept payments to a complete experience, both for the restaurant guest and the business itself. As more solutions provide compliance with payment and data security standards, more restaurants will offer this advanced customer experience to their guests.
Want to find out more about Pay-at-the-Table? Get in touch!
Alan Forgione is Head of US ISO Sales at Ingenico Group, North America