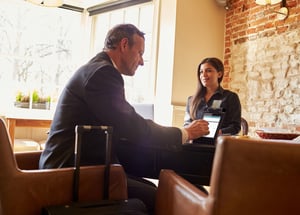 The hospitality industry is always on its toes to make sure its guests have the best experience possible. Most hotel and lodging businesses work hard to 'wow' their guests and hope they keep coming back for more. Over the years, guest needs have evolved from just looking for a place to stay in their destination city to expecting unique experiences.
Hotel and vacation rental businesses (Airbnb, FlipKey, etc.) thrive on providing these guests with something new and exciting that elevates their travel experience. From hotels leaving a chocolate on the guest's pillow to vacation rentals providing binders with information on fun things to do around the area, these tactics can help. However, over the past few years, more people have been traveling than ever before. According to the Deloitte's 2019 US Travel and Hospitality Outlook report, from 2009 to 2017, U.S. hotel gross bookings grew from $116 billion to $185 billion. This number will continue to increase and so will the guest expectations for a good overall experience.
Training your staff well and making sure you cater to all guest needs is one way to serve them. But innovative technology solutions can further enable your staff to provide better experiences to your guests and take your business to the next level:
Tech Solutions that to take your hospitality business to the next level
1. Check-In Experience:
Self-service: Consumers around the globe are used to self-service. They use it at airports when they are getting their boarding passes, they even use it at restaurants to order food. It is only natural for guests to expect the same convenience in their hotel experience.
Imagine, you've had a long flight and have an early morning business meeting the next day and don't really feel like spending time chatting at the front desk. You approach a self-service check-in kiosk and after confirming a few details, you have your room key cards within a few seconds.
Self-service kiosks not only make the check-in process more efficient but also remove any friction that busy travelers may face. In addition to check-in services, self-service robots can also be helpful to travelers to book other activities around town.
Remote Check-in: Every hotel and lodging business has its busy travel times throughout the year where lines at the front desk get really long. Remote check-in allows your staff to check-in guests anywhere on the hotel property and even on the shuttle bus from the airport. This not only helps in enhancing the guest's check-in experience, but it also improves efficiency for the business.
2. Mobile Keys:
Given the high proliferation of smartphones, it may be beneficial for hotel and lodging businesses to provide their guests with the ability to unlock their rooms with their smartphones. Some hotels have been taking advantage of this by allowing members to use their device's NFC capabilities and the hotel's mobile app. This way, the guests have the convenience of opening their rooms, ordering room service, housekeeping, etc. right in the palm of their hands. It also means that the hotels don't have to encode room keys in these cases – saving them time and money.
3. Digital Assistants & Other Applications:
Digital assistants such as Google Home and Amazon Echo have become popular household item over the years and hospitality businesses are beginning to adopt it as well. Some Marriott hotels have installed Alexa devices in few rooms allowing guests to use it for many tasks including, requesting amenities, asking about pool hours or even placing a call to the front desk. It can also allow guests to control the temperature, lighting, etc. of the room along with functions on the TV. In addition to digital assistants, many software providers in the market offer solutions that enable guests to log in to their own streaming service on the hotel room TVs. This not only allows them to access entertainment in ways they are used to, but having their own account signed in enhances their overall experience.
Delight Guests with Unique Experiences
The hotel & lodging space is competitive and it is important for you to stand out in more ways than one. Enable your business to take advantage of innovative technology to better service your customers and provide unique experiences. This will not only get your guests to come back more often but will also give you a competitive edge in the market. You will build loyalty and trust with your guests who then will become your brand advocates spreading the good word around with their family and friends. How do you plan to enhance your guest experience in your business? Let us know in the comments section.
Mike Ryan is Senior Sales Executive, Ingenico Group, North America