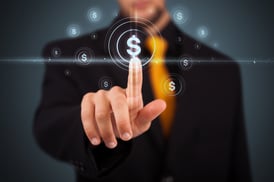 How many times have you needed to split a bill or pay back a friend but didn't have cash? For me, it's a regular occurrence. Just a few weeks ago, I joined six of my friends for the Game of Thrones Season 8 premiere. We ordered a few pizzas, drinks and snacks on Uber Eats and watched eagerly as (SPOILER!) Jon Snow learned he's actually a Targaryen. When it came time to pay for my share of the order, I pulled out my phone -- not my wallet. I Venmo'd my friend $20 (description: 🍕🧟⚔).
Peer-to-peer (P2P) services are quickly becoming an integral part of our lives. A whopping 49% of millennial smartphone owners in the U.S. send or receive money at least once a week, and P2P transaction volumes are forecast to reach close to $341 billion by 2022.
In addition to Venmo, other services like Zelle, PayPal and Square Cash are leading the market with their individual user bases growing exponentially. Even Google Pay and Apple Pay, which already have established links between a user's credit card and bank account, have seamlessly integrated P2P options into their mobile wallet capabilities.
P2P payments aren't just for splitting the bill -- they are a viable way to transact with businesses. Already, leading online businesses including Chipotle, Grubhub and Uber accept P2P payments. But what about P2P for in-person transactions? Is there a play here? The answer is yes, thanks to these key benefits:
Convenience
P2P can help businesses accept a new way to pay without the hurdles typical of new payment technology: getting the technology in the hands of the consumers and having them want to use it. In this case, consumers have already downloaded the app (Venmo just reported a staggering 40 million users), tied it to their bank account, and learned how to use it. All businesses have to do is let them pay with it.
Trust
Consumers already trust these P2P payments and the companies that maintain them. According to a recent report by Accenture, Gen Z is expected to make up 40 percent of all US consumers by 2020. 68 percent of this group are interested in instant P2P payments more than any other group that at least 1/3rd of them even want to share their payment activity on social media. Offering customers methods of payment that they know and trust can make them feel confident in the transaction, build loyalty and increase the potential for repeat business.
Choice
The more payment acceptance options businesses provide, the better chance they have to reach a wider pool of customers. Plus, P2P payments is another way to save transactions that would have otherwise been abandoned due to a forgotten wallet or a shortage of cash, especially for smaller businesses and vendors (think Girl Scouts selling cookies, food trucks, freelance photographers, pop-up boutiques, etc.). In fact, some vendors have already set up Venmo QR codes for their customers to scan to pay for goods and services.
At the end of the day, a big part of having a successful business is letting consumers pay their way. P2P is an easy option to add that can lead to a big pay off in terms of consumer satisfaction.
Ryan Ahern is the Payments Solutions Manager at Ingenico Group, North America