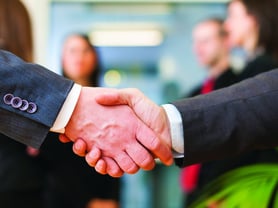 Keeping up with the changing needs of the payments industry in the U.S. can be challenging, especially if you're an ISV, ISO or VAR and new to the payments space. To deliver strong solutions that meet merchants' needs, it's important to work with a payments technology partner that complements your business and makes it easier for you to get to market. Your business needs a trusted, strategic partner that can provide comprehensive and innovative point of sale (POS) solutions and services that eliminate payment complexity.
To help you choose a payment technology partner, here are five key qualifications you should keep in mind during your search:
1. Reliable, field-tested technology & certified solutions
The right technology is at the core of a solid payment solution. A good technology partner should provide high-quality and reliable hardware to power your solution, including counter-top, wireless, mobile and unattended solutions for any environment you wish to service. These solutions should be enterprise-grade, so they can easily handle large transaction volumes and accept all forms of electronic payments, including magstripe, EMV and NFC/contactless methods, such as Apple Pay and Samsung Pay.
The software part of the solutions should also be thoroughly field tested, pre-certified and compliant with the latest PCI data security requirements. Your payment technology partner should also be able to provide you with strong security solutions, including point-to-point encryption (P2PE) and tokenization to prevent data theft and fraud.
2. Support for multiple industries & use cases
From fixed terminals to unattended and mobile point of sale (mPOS) solutions, your payment solutions partner should offer the technologies and proven expertise to meet the unique needs of virtually any industry or use case. Your partner should be able to integrate payment solutions for retail, banking, restaurants and food service, hotel and lodging, transportation, tourism, venues and events, non-profits, healthcare, home services and much more. Thus, even if you only focus on some of these industries or use cases at the outset, your partner will have a wide range of expertise to help you attract and service customers in new markets when the time and opportunities are right.
3. Payments expertise
Look for a technology partner that helps you stay ahead of the latest trends, standards and requirements in the payments industry. Its solutions and expertise should enable payment acceptance across multiple channels, support virtually any customer service model and meet the latest PCI data security requirements. They should offer decades of real world experience and a proven track record of continuous innovation in delivering secure payment acceptance.
Your payment technology partner should also have affiliations with leading industry associations, such as EMVCo, the U.S. Payments Forum and more along with their subject matter experts to provide your business with expertise on EMV, payment security and other critical matters.
4. Marketing support
Building a payment solution isn't enough. You also need to be able to market it to the right audience. This is where a payment technology partner's expertise in marketing support comes into the picture. It should be able to help you build brand awareness and drive sales success with comprehensive marketing support, insights and assets. Your partner should be able to provide you with turnkey campaigns or work with you to develop customized programs to help you attract and convert more customers. You should also look for a partner with experience in supporting marketing efforts for events and tradeshows, including email, social media, etc.
5. Sales, Product & Technical Support
As an ISV, ISO or VAR, you will require extensive support for sales, product and technical matters, to ensure your payment solution is a success. Look for a technology partner that offers your business a dedicated account team that works with you throughout the sales cycle, providing support and troubleshooting for any questions or issues that may arise.
As part of this, your partner should offer sales engineers to make your selling process easier by helping you provide technical details to your potential customers. Its product team should be able to provide training and insights to help you better understand payment solutions and prepare for coming changes in payment technologies and requirements. Your partner should also offer strong customer support team that will help you troubleshoot and tackle any technical issues that arise while integrating and deploying payment solutions.
Find your technology partner
Payments is a complex and a dynamic industry, but a trusted technology partner makes it easier to deliver great solutions and maintain a competitive edge in the market. If you are already in the RFP process to find your technology partner, use the above-mentioned factors or download this checklist to guide your questions. If you are looking start the RFP process, you can still use this information to help guide your conversations with your prospective technology partner.
An ideal payment solutions partner for your business is not far away. Contact us, learn about our solutions, industry experience and support. Take steps to become an Ingenico Group Partner and get started.
Russell Harty is Senior Vice President, US Sales, North America/Ingenico Group