Many independent software vendors (ISVs) in the US service a wide range of industries, and with last October's liability shift it can be a daunting task for them to get to market with EMV-enabled mPOS solutions that fit their customers' needs. In our previous blog post, we discussed 3 key challenges that ISVs face while enabling EMV for their mPOS solutions, including the complexities of implementing EMV as compared to magstripe, the time-consuming certification process and high costs. However, when following the right steps, ISVs can combat these challenges and get to market quickly with their EMV-enabled mPOS solutions in just three easy steps.
Step 1: Begin with a Software Development Kit (SDK)

Integration tools are at the core of developing a successful EMV-enabled mPOS solution. They make all of the components work together in harmony. To help with the integration, ISVs should look for an SDK that provides them with the necessary tools to integrate EMV payments acceptance into their mPOS solution.
ISVs should make sure the SDK:
is developer friendly
helps build native user experiences for iOS and Android
takes a semi-integrated approach to payments
enables plug and play card reader integration
Step 2: Choose high-quality mPOS card readers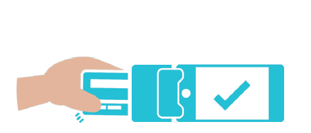 ISVs are experts at developing powerful software, not designing payments hardware such as mPOS card readers. ISVs should seek out technology partners that have the experience and operational infrastructure to keep up with market trends and demand.
ISVs need to make sure that these mPOS card readers:
come in different form factors to best suit customer needs
accept all forms of electronic payment, including EMV chip cards and NFC/contactless
support audio jack, Bluetooth, and USB connections to the mobile device
Step 3: Select an EMV Payment Gateway
An EMV payment gateway is the last piece to the EMV-enabled mPOS solution puzzle. It is essential because it communicates with the banks to authorize credit card payments for businesses. Typically, a good payment gateway needs to be of enterprise grade to handle high transaction volumes, support multiple payment types (including EMV) and work with multiple processors. Choosing the right gateway can be a tough task, especially when payments may not be a core competency for an ISV.
ISVs should look for a payment gateway that:
provides certified connections to multiple processors
is an enterprise-grade solution that can handle high transactions volumes
supports multiple forms of cashless payments including magstripe, EMV & NFC/contactless
keeps integrations up-to-date with current security standards
provides account management & transaction reporting APIs
Getting to Market
Integrating secure payment acceptance into an innovative business application takes time, money and resources. That's why it's important for ISVs to work with an SDK that does all of the heavy-lifting for them, rather than trying to keep pace with the latest payment standards, certifications and compliance requirements on their own. ISVs should also look for a single technology partner that can provide and bundle the SDK, mPOS card readers and EMV payment gateway into a certified end-to-end solution, rather than cobbling together a solution from different companies. This ensures that if one piece of the solution is updated the entire solution still works seamlessly.
Visit our mPOS EMV SDK page to learn more about our offering. You can also download our free ebook which dives deeper into launching an EMV-enabled mPOS solution. If you have any more questions, feel free to leave them in the comments section below or submit them on our Ask an Expert page.
Andrew Molloy is the Director of Product at Ingenico Mobile Solutions