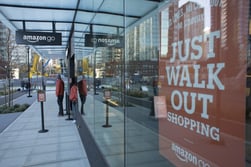 The hype surrounding Amazon Go has sparked a lot of debate about the "e-tail to retail" movement, which has become more popular over the past five years. However, as the line between e-tail and retail businesses continues to blur, the launch of Amazon Go does not necessarily reflect the approach that other online retailers are (or should be) taking when opening brick and mortar shops.
When Amazon first made the announcement at the end of 2016, merchants, consumers and media saw the potential future of retail in front of them. The company's frictionless "just walk out" payments process makes the customer experience effortless and eliminates the payments infrastructure associated with traditional brick and mortar shops. This is not the first attempt by Amazon to bring a breakthrough technology into reality, as with drone delivery, and though these solutions aren't widely adopted yet, they are good food for thought and sparks the conversation on how to create a better customer experience.
From Click to Brick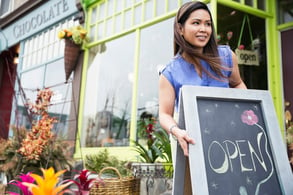 Unfortunately, we're not all Amazon. That being said, just because an online-based company lacks the internal resources to open a brick-and-mortar location – while simultaneously developing a suite of solutions that will completely revolutionize how consumers purchase goods – that doesn't mean they shouldn't be able to make the transition to in-store retail.
The direction of e-tail to retail may seem at odds with the early days of online commerce, but it's been proven that the shift can have a very positive impact on a company's bottom line. Major retailers such as Warby Parker and Bonobos started their businesses online based on the convenience of a direct-to-consumer business model that emphasized personalization and speedy deliveries. After opening pop-up stores, they learned that their customers enjoyed the experience of testing their product in-store and then purchasing a customized version at home.
By opening brick and mortar shops, the same combination of speed and convenience that lifted these companies off the ground has opened new sales channels and positively impacted their business outcomes. But this trend isn't simply for the top dogs – smaller e-tailers are moving into the retail world as well with pop-up stores at festivals, farmers markets and other venues.
For small e-tailers, the move into a physical shop diversifies their revenue stream, and for the bigger players, it's a way to capitalize on their online brands, and build a stronger selling relationship with consumers thanks to a complete multi-channel experience. For certain goods such as apparel, it's tough to beat the power of letting customers touch, feel, or try on merchandise to engage the customer and make the sale.
Improving the Consumer Experience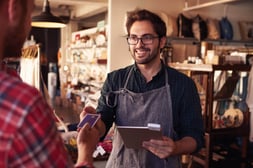 When making the transition, the question for the larger e-tailers, as well as online marketplaces and platforms serving smaller merchants, is how to make the in-store consumer experience smooth, fun and effective, without forcing the e-tailer to deploy too much infrastructure?
As the channels consumers are using to shop continue to converge, the payment must follow, and the answer for many of the merchants making the move into physical retail is mobile point of sale (mPOS). More specifically, mPOS consists of the mobile card readers, payment processing capabilities, security features and the software that enables merchants to manage their business. When leveraging a secure mobile card reader, combined with the right apps running on readily available tablets or smartphones, mPOS can serve as an ideal solution for e-tailers looking to implement a system for taking face-to-face payments from customers in a fast and secure way. The most flexible and advanced mPOS solutions leverage secure APIs for integration into mobile apps that meet specific business needs, including inventory management and appointment or reservation scheduling. Seamlessly connecting these services to the POS is a huge advantage for both big and small e-tailers because it can eliminate the need for additional software solutions to manage these functions.
In the brick and mortar world, back-end systems for inventory management and in-store sales have long been available, but mPOS solutions often provide a smoother transition for e-tailers moving into a physical store, making it easy to provide a unified customer experience across channels. By contrast, the new solutions being tapped by e-tailers moving into retail are cloud-based apps for tablets or smartphones. When you combine a flexible mPOS foundation with well-known mobile devices and apps that meet the functional needs of specific retail categories, then you have a complete solution in a cost-effective, mobile package.
You Can Do It
In response to this growing trend, marketplace and e-commerce software providers need to think of how to be a one-stop provider for merchants who increasingly want to go multi-channel. By extending their services into mPOS, they're enabling their customers to quickly and easily launch into physical sales using one unified platform. At the same time, it helps them differentiate from many of the e-commerce giants who are online only and don't offer smaller merchants a solution for physical retail.
While it is a still early to tell if Amazon Go can be sustained on a larger scale, today with mPOS, online merchants can utilize to implement a smooth consumer experience without the need to spend a lot on software and payment solutions. At the end of the day, it simply makes sense to build on a strong online brand in the physical world. With mPOS as the core enabler, many e-tailers are finding they can accomplish their retail goals with the speed and convenience that were hallmarks of their success in the online world.
David Szczepanski is COO, Mobile Solutions, North America / Ingenico Group