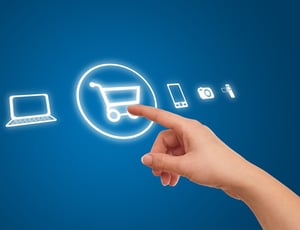 As mentioned in Part I of this blog post series, at some point in our lives we, as consumers, have abandoned our baskets without purchasing anything while shopping online. This process, which may seem harmless from the consumer's standpoint, is frustrating for an online merchant. They put in a lot of hard work into reaching each customer and losing them at the crucial moments of a checkout can be disheartening. If you put together all these instances of cart abandonment, the business implications can be significant and may require some intervention. The goal of these blog posts is to highlight three reasons why this consumer behavior of cart abandonment occurs and provide constructive solutions that merchants can implement immediately to curb the practice. In the previous blog post, I provided two reasons and solutions help online merchants address this issue. Here's what we discussed:
Consumers' payment preferences aren't included: Consumers may abandon their shopping carts if they realize their credit card brand isn't accepted by the online merchant. Another obstacle that can hamper their buying process is currency. If the online merchant sells their merchandise only in one currency, the converted amount may not work for the consumer or may cause confusion. As a solution to these issues, we recommended that the online merchants should offer all payment methods and make currency conversion easier. This will ensure the transaction is simple and leaves the customer happy and hopefully coming back for more.
Consumers' credit card may get declined: This is a common problem among online merchants when card issuers reject certain non-locally issued credit cards. These transactions seem fraudulent to the issuer and thus get declined. To solve this, we recommended employing a back-up acquirer that can help increase the conversion rate by 3-6 percent improving the overall transaction acceptance and reducing cart abandonment.
You can read these more in detail in Part I of our blog post series. In part 2 of the blog post series, I discuss the third reason why merchants face shopping cart abandonment and provide a solution on how they can overcome this obstacle.
Reason #3: The website is not adapted to customers' needs
eCommerce consumers can be fickle – they expect a quick, streamlined and painless shopping experience, and the moment they hit a roadblock, they'll click away. Maybe the payment page makes it difficult to complete the transaction or leaves the customers waiting and wondering whether the transaction will go through or not. We've seen customers lose interest while waiting for the payment page to process the transaction, and if they click away or stop in the middle, you've lost the sale.
In other situations, the payment page may not be compatible to the device that the customer is using to shop and it deters them from even trying. We know for example, that Latin Americans are more likely to own a smartphone rather than a laptop or desktop for their home environment. Therefore, it's important that checkout pages in LATAM are optimized for small screen sizes. Customers don't want to bother zooming in or out, squinting at small print, or scrolling through countless pages when it comes to completing their transaction. They are more likely to abandon their cart before even getting to the payment page.
Solution #3: Tailor your payment pages to your audience
Don't assume that everyone is shopping on their computers. Today, mobile commerce (mCommerce) is taking a greater share of eCommerce sales so it's important for merchants to employ a mobile-first strategy.
Having a payment page that adapts to the device the customer is using is a first step, but it's not the only one. Global online merchants should consider all the elements that go into their payment pages, including details such as auto fill forms, appropriate keyboards, branded URLs, the color of the pages and even if the payment button should say "pay" or "checkout."
Also, customers won't spend a lot of time waiting for the transaction to be completed. Make sure that your payments meet your customers' expectations (see solution #1) and are as optimized (see solution #2) so that the customer journey that you offer is as fast and easy as possible.
Curb Shopping Cart Abandonment
Shopping cart abandonment, though common, is a thorn in an online merchant's side. They work hard to reach customers and to lose them at the crucial moments of a checkout repeatedly can hurt their business significantly. Frustrating as it may be for them, the solutions mentioned in this post are capable of not only identifying the nuanced pain points that encourage customers to abandon carts, but also provide tips to help curb that behavior.
Armed with all this information, we can make recommendations on how eCommerce businesses can ensure there are fewer digital window shoppers - and generate top-line revenue for themselves. If you are looking to understand how we can help you implement this strategy in your business, get in touch with our teams at Ingenico ePayments.
Mailie Shortill is the Head of Sales Enablement at Ingenico ePayments
Related Blog Post: