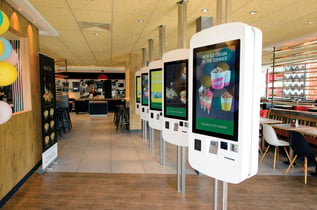 Recently, while at a baseball game, I had the chance to check out the self-service kiosks the stadium was using to help with line busting at the concession stands. Fans at the venue can easily order food from these kiosks and once they reach the concession stands, all they have to do is pick up their items, avoiding the typical long lines.
The food and beverage industry in the U.S., especially quick service restaurants (QSRs), have had the same customer experience for decades now. You walk in, order your food and wait for your number to be called out. Once you collect your meal, you find a place to sit and eat. In case of a stadium environment, which is similar to a QSR environment, you are just waiting to get back to your ticketed seats with your food. In both environments, speed of service is of paramount importance. QSRs need to get customers in and out quickly and concession stand vendors need to get them back at their seats with what they need as swiftly as possible. From the business owner's standpoint, the ordering process is most critical to achieve this speed and grow revenue. That window is a major opportunity for businesses to provide a better experience to their customer and potentially increase their average ticket price. Whether it is via upselling tactics such as "would you like fries with that?" or other strategies such as coupons, etc., restaurants are always looking for clever ways to boost their revenue.
QSRs are already adopting self-service kiosks in their businesses to help boost revenue and provide a better customer experience. According to an article in Business Insider Taco Bell is looking to implement a kiosk strategy by 2019 that is aimed to boost revenue. This is something concession stands and pro shops at stadiums can learn from the QSR environment and adapt to fit their needs. A self-service kiosk strategy can benefit your business in many ways. Let's examine a few of them:
Order accuracy: Ordering through a kiosk ensures the accuracy of what the customer wants. There is less scope for errors or misheard words with a kiosk as the order is placed manually and selected directly by the customers.
Upselling opportunity: Self-service kiosks in the food & beverage industry provides businesses with the flexibility of upselling. According to the Harvard Business Review, McDonald's found that 20 percent of customers who didn't initially order a drink would buy one when it was offered on the kiosk.
Mobile order assistance: As mobile ordering slowly picks up steam, kiosks can provide additional support by helping customers with add-on items. A customer that orders food via a mobile app for pick up at a concession stand, can bring up their order on these kiosks and add more items to it which they may have forgotten about before. This not only works seamlessly but, also provides the customer with a great experience.
Secure payment acceptance: Most kiosk solutions are equipped to securely accept all forms of electronic payments including magstripe, EMV and NFC/contactless. Industry best practices also push providers to make sure the solutions are PCI certified and have SRED (Secure Reading Exchange of Data) capabilities to ensure data security and privacy. This way, businesses ensure the safety and security of their customer's card data.
Improving staff efficiency: Food & beverage businesses can get very busy – whether they are a QSR or a stadium hosting a game, lines to buy food and beverages can get really long. In these situations, customers can get frustrated and potentially abandon the idea of buying anything. Kiosk solutions are designed to add multiple touchpoints to enhance customer experience but more importantly, improve staff efficiency. They also help businesses increase throughput where they can put more resources in preparing food rather than taking orders as that task has been taken care of by the kiosk solutions.
High average ticket: Self-service kiosk ordering not only adds convenience for the customer but helps boost revenue for the business. According to a whitepaper published by Kiosk Marketplace and an article published in QSR Magazine, the average ticket price goes up by 15-30 percent when customers order via the self-service ordering kiosks.
Self-service kiosks can positively impact a restaurant or a concession stand's revenue and profitability. They also help enhance staff efficiency and create a better customer experience. Are you ready to implement a kiosk strategy in your food & beverage business? Drop us a line and let's talk about your payment needs.
John Menzel is Sr. Self-Service Solutions Manager at Ingenico Group, North America