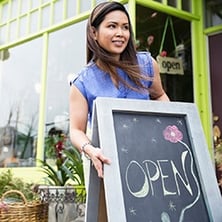 Traditionally, mobile point of sale (mPOS) solutions were aimed at micro-merchants and smaller business with limited resources. These businesses needed a payment acceptance option that was not only cost effective but gave them the mobility to do business outside of a brick and mortar location.
However, in part due to enterprise-class businesses showing interest in this type of solution, mPOS has gone through some significant changes over the last few years. Many merchants are now looking to combine a mobile card reader with a tablet device instead of a smartphone. This is because a tablet POS solution provides a larger user interface to run applications while still giving them the mobility they prefer.
Expanded Functionality Beyond the POS
In addition to providing a larger user interface, a tablet POS system allows the merchant to do more than just accept payments. For example, it allows merchants to run powerful business applications that are more robust and can perform many critical functions better on a tablet than a smartphone. As one example, these applications can enable staff to check product information or availability and help upsell other items that complement what the shopper is already buying. Alternately, the tablet can also be used to run applications that help merchants manage employee schedules, check product inventory, analyze sales reports, and manage many other aspects of their operations.
Use Cases Across All Business Sizes
Compared to smartphone-based mPOS solutions, tablet POS solutions can address a broader range of market segments, industries, verticals and use cases—from small-to-medium businesses (SMBs) to major enterprises. From fixed tablet POS or line busting in a retail store to pay-at-the-table in a restaurant or performing hotel check-ins, tablet POS solutions allows businesses to better engage with their customers and create many opportunities for upselling their products and services.
Benefits for Software Developers
There are many benefits of a tablet POS for ISVs, including the following core advantages:
Versatile Hardware: Tablet POS hardware is versatile in nature and can be used across different verticals and use cases. This provides flexibility to ISVs who are developing powerful business applications and may want to cater to different use cases with a single piece of hardware.
Familiar Platform: Most tablet POS systems use a mobile tablet device built on a platform that is familiar to most developers, such as iOS or Android. These standard platforms make it easy for ISVs and developers to design and develop apps for merchants.
App Distribution: Today, most applications are distributed to tablet devices through an app store. These app stores provide ISVs an easier and faster way to get their business applications and inevitable updates pushed out to their customers' devices.
SaaS Model: The software as a service (SaaS) model is commonly used in tablet POS systems and allows ISVs to generate recurring revenue by charging monthly fees for the application/service and sometimes for add-ons to their applications as well.
Benefits for Merchants
Tablet POS systems have many merchant benefits as well. Let's take a look:
Enhanced customer experience: A tablet POS system allows merchants to provide their customers with a personalized and convenient payment experience wherever they may be. From in-aisle checkouts in a retail store, to providing check-in services anywhere on a hotel property, a tablet POS system is always ready in a fixed or mobile environment. It gives businesses the opportunity to engage their customers anywhere and provide additional value such as product/service information and upselling options on a larger, easy-to-read screen.
Software & application choice: With the flexibility of tablet POS systems, merchants can choose from a myriad of app store apps to cater to their business needs. Merchants can easily download and install business applications that help them manage product inventory, check product availability and shipping options, manage staffing and timesheets, gather customer feedback and much more.
Easy employee onboarding/training: Learning how to correctly use an electronic cash register (ECR) or a PC-based POS system can be complicated for a merchant's staff and can take a lot of time. However, tablets are very intuitive and easy to use and learn. Many staff members are already familiar with tablet devices and use them at home, so the time required for onboarding and training them is often reduced significantly.
Simple updates & maintenance: Tablet POS systems allow for easy software updates, just like updating a consumer tablet device, updates are typically delivered through a connected app store. Merchants can also take advantage of these cloud-based systems to easily manage and maintain their data without the IT headache of on-premise systems.
Brand image: Tablet POS solutions are lightweight, sleek and professional looking. They take up less space on a fixed counter and offer mobility when needed. With a tablet POS, merchants can give customers a unique experience and create positive interactions that lead to greater brand loyalty and more repeat business, while portraying their brand as tech-savvy and innovative.
The Future of Payments
Tablet POS solutions provide all of these benefits while helping merchants provide new experiences for their customers, create additional touchpoints, and accept all forms of electronic payment, including magstripe, EMV and NFC/contactless. Adoption of tablet POS solutions is increasing dramatically, and it's fast becoming an important competitive consideration for merchants across all industries.
If you are already considering a tablet POS for your business, drop us a line and talk to us about your payment needs. If you are attending Money20/20 in October, stop by our booth #1301 and talk to our experts to learn more about how Tablet POS can help your business.
Ben Wagner is the Director of Solutions at Ingenico Group, North America