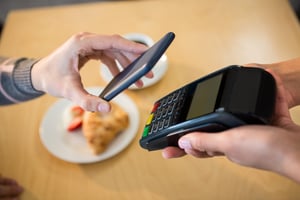 TechCrunch recently published an article citing a new Juniper research discussing the state of contactless transactions globally. According to the new forecast, in-store contactless payments will reach $2 trillion by the year 2020. In addition, the mobile contactless payment market will be dominated by Apple to the extent that one in every two contactless transactions, consumers will use Apple Pay to buy. That got me thinking if we can expect to see similar results in the U.S.
U.S. percentages to echo global figures
Though this was a global study, the numbers in the U.S. will still be growing, but the market share of transactions is likely to be similar with the exception that Apple might not see the same dominance in the U.S. that they expect to see worldwide. However, we expect they will still have the majority share in the market. The biggest difference between the U.S. and the global markets is the presence of contactless cards in other regions. Contactless cards have existed in many countries in Europe and in Canada for years now and have also been popular among consumers as a preferred mode of payment. The perceived speed of contactless card transaction is faster than using magstripe or contact EMV. In fact, it is also slightly quicker than the mobile wallets as it doesn't involve the action of authentication on a smartphone or turning your smartwatch a certain way to gain access to the contactless reader on payment solutions.
The emergence and future of mobile wallets
Mobile wallets such as Apple Pay, Google Pay and Samsung Pay started in the U.S. when NFC/contactless payment technology was new to the market. These mobile wallets gained notoriety before the card brands could introduce contactless cards. However, that may change soon. Last year, Creditcards.com published an article discussing the emergence of contactless cards in the U.S. Reports speculated that commuters in New York will start paying their subway fare the same way Londoners do – by using their contactless credit and debit cards directly at the turnstiles. According to reports, this transition could happen as soon as late 2018. This raises two significant points:
One: There will be a change in buying behavior. Tapping cards on payment acceptance devices is likely to become common outside of the subway commuter realm once they are introduced.
Two: How will mobile wallets compete for their share of voice in the minds of the consumers?
This is where mobile wallets can evolve their solution to make themselves more ubiquitous.
Value Added Services: One way mobile wallets are beginning to evolve is by offering integrations with popular store loyalty programs. Customers can easily enroll in these programs right from the mobile wallets on their smartphones and even redeem their accrued points with customized prompts and push notifications. To further enhance the customer experience, retail brands are also able to push coupons and discounts through the app to encourage customers to buy their merchandise. This integration can really help merchants build brand loyalty easily among their customers.
In-App Payments: Another way mobile wallets are evolving their offering is with in-app payments. Many eCommerce sites are integrating mobile wallets such as Apple Pay and Google Pay into their payment offering. This allows for a seamless customer experience when it comes to paying for merchandise online. At checkout, consumers just have to select the mobile wallet option (pay with Apple Pay or Google Pay). In most scenarios, the shipping address is automatically populated based on the credit card information in the mobile wallets making buying products even easier. This makes the checkout process more efficient and removes any barriers or doubts that might occur in the consumer's minds while using the eCommerce website for the first time.
Whether you prefer using mobile wallets or are waiting to use contactless cards, the adoption of NFC/contactless methods is growing in the U.S. as more consumers are getting used to the new technology. Since the EMV transition in the U.S., more merchants are prepared now to accept NFC/contactless payments including mobile wallets than before. They are just waiting for the customers to come and use it. Irrespective of whether a specific mobile wallet comes out on top or contactless cards take over in the U.S., consumers will be likely to prefer to these methods of payment as time goes on. If you have further questions on EMV, NFC/contactless, feel free to post them in the comments section or visit our Ask an Expert page.
Allen Friedman is VP of Payment Solutions at Ingenico Group, North America