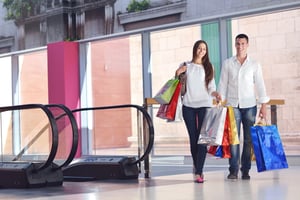 There was a lot of discussion about "the retail apocalypse" in 2017 and 2018, but the data tells a different story. Retail sales have been growing gradually since November 2009 on a year-over-year basis, according to the National Retail Federation (NRF). Additionally, 2018's holiday season sales hit record numbers: according to Mastercard's SpendingPulse report, which records data from November 1 to December 24, holiday sales increased 5.1 percent over 2017, the biggest growth in six years. This tremendous boom of retail spending in 2018 and continuous growth year after year suggests 2019 may be even bigger.
The strong economy is helping with this growth, but to capitalize on this, retailers need to continue to innovate, invest and keep the customers' needs and expectations top of mind. Is your business prepared for this? Are you rethinking your shoppers' in-store journey? Are you exploring mobile technology solutions that can enhance customer engagement? In this blog post, I explore opportunities for further retail success in 2019 and how payment technology comes into play.
Drive loyalty with omni-channel
Today's consumer shops mainly in-store, online or on their mobile device—and they expect a seamless experience across all these channels. NRF suggests that investments in technology are now paying off and setting retailers up for the next phase of consumer evolution. When it comes to completing a transaction, customers expect to be able to pay where and how they want. For instance, being able to buy online and pick up in store is now expected by consumers. But many of them would prefer to browse online and not complete the transaction until they can physically engage with the item. "Holding" an item for a customer enables them to come to the store, have what they want waiting for them and then complete the purchase once they are satisfied. This opens the opportunity for a sales associate to provide personal service, upsell and promote your loyalty program. Combine this with mobile POS and payment technology and you can create a true personalized experience.
Re-imagine the store
As consumer' needs continue to shift and expand, they expect to see new technology in the store. In fact, 55 percent of consumers feel that brands are behind the times with how they interact with customers, both online and offline. An example of technology that opens the door for the imagination of your store mobile point of sale (mobile POS) solutions, as they offer flexibility in the way consumers interact with associates in store. More recent technology is the Connected Screen, which enables brick-and-mortar stores to add something new and innovative to their customers' shopping experience. These NFC-enabled screens allow customers to tap their phone or contactless card to pay for products, or even donate to charity. Retailers can also push coupons and discounts to the screen to drive more traffic to their brick-and-mortar location.
Enhance customer engagement with mobility
Since today's retail ecosystem is healthy and vibrant, innovators are able to experiment with how to meet, and even exceed, customer expectations. Often, shopping can end up being a frustrating experience for customers, especially during busy seasons where long lines are always a challenge. As mentioned above, merchants today can use mobile POS solutions to allow customers to check out anywhere in the store. For customers purchasing only a few items, they can checkout faster and skip the line. Mobility also allows the sales associates to quickly check inventory and shipping options, get detailed product information, and offer suggestions for upgrades or additional items.
Customer experience is key
These are just a few of the opportunities for retailers to capitalize on as retail continues to grow. By re-imagining the store and enhancing customer engagement with mobility, merchants can provide a better experience across all channels.
We hope this blog post was helpful. Explore ways you can grow your business—get in touch with us!
Bradford Giles is Senior Vice President of Marketing and Sales Enablement at Ingenico Group, North America