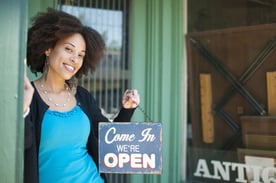 Winter is over and spring has sprung! You know what that means… spring cleaning, getting rid of old things and making room for the new. It's also the perfect time to update, consolidate and/or refresh your payment technology. Technology and your business needs are constantly evolving, including your payments solution. It's important to stay on top of your product lifecycles, make sure all your systems work together seamlessly and be in the know of what's new in the market. With that in mind, here are three suggestions for your business to consider this spring:
Ensure Your Solution is Up to Date
If your current solution is nearing its end of life and/or your solutions provider is discontinuing support, you should be preparing to upgrade your technology. If you're not already, you should consider looking at accepting contactless payments. Today, 78 of the top 100 merchants offer this capability in the US and it is becoming the payment preference of consumers. Contactless payments include contactless cards as well as mobile wallets, such as Apple Pay and Google Pay. Allowing your customers to pay how they want will generate a more positive customer experience. Additionally, it opens the opportunity for value-added service (VAS) capabilities. For example, businesses can integrate their own loyalty programs and coupons into these mobile payment solutions to provide further value to their customers, driving more loyalty and impulse purchasing.
Consolidate your Payment Systems
Have you ever bought something online and gone to return it in-store only to be told that you'd have to mail your items in order to get a refund? This, and similar situations, can happen when a business has a combination of older and newer solutions that run on different platforms. If your company currently deals with differing payment platforms, it's worth looking into upgrading the older ones so that they're all in sync with the same platform. Making sure your customers have a frictionless payment experience is vital to the overall customer experience and keeps them coming back versus going to your competitors.
Make Room for the New
Out with the old, in with the new! When it comes to creating unique customer experiences, innovative solutions such as mobile POS and unattended solutions can help you get there. Mobile devices, depending on the vertical, can be used to check out customers anywhere in the store, allow them to pay right from their table or even in the field. With unattended solutions, you can cater to your customers wants and needs as they relate to speed, security, convenience and overall purchase experience. That may be allowing shoppers to browse through a product catalog on a kiosk, allowing customers to pay for parking or maybe offering self-service ordering at a QSR. No matter the vertical, mobile devices and unattended solutions are two innovative ways to interact with your customers and offer them a better overall experience.
The sun is shining, flowers are blooming and your payment technology is…getting dusty. Use this change of season to reconsider your payment technology needs and desires. We'd love to help you along the way, get in touch!
Kylie Everhart is an Account Manager at Ingenico Group, North America