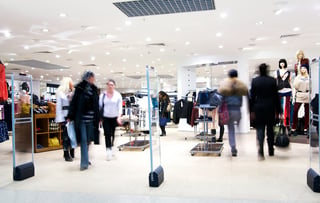 2018 is right around the corner, and it's time for retailers to start thinking about how they can elevate their game in the New Year. According to Salesforce's research, 50 percent of consumers are likely to switch brands if their expectations aren't met. Thanks to technological advancement, shoppers can easily find multiple sellers selling the same products via their smartphones. In fact, 70 percent of consumers feel that technology has made it easy for them to take their business elsewhere. Thankfully, there are strategies to avoid these outcomes, meet customer expectations and avoid losing sales to competitors.
The National Retail Federation (NRF) recently released its 2018 trends report, which provides good insights into a number of these strategies and how some major retailers are implementing them.
In this blog post, I explore some of these strategies, including how innovative payment solutions can play a crucial role and help retailers capitalize on four crucial trends in the New Year.
1. Redefine Brick-and-Mortar
According to Alliance Data's 2017 Generational Perspective report, more than 75 percent of all generations want to see a product in the store, but they also expect new experiences with innovative technologies.
Connected Screens are one such payment solution that can help brick and mortar stores add something new and innovative to their customers' overall shopping experience. Typically, these screens are NFC-enabled and can accept payments with a contactless card or mobile wallets such as Apple Pay, Android Pay, etc. Customers can tap their phone, securely pay and purchase goods or even donate to charity. These screens can be placed outside the stores in malls and can be used to distribute coupons and discounts to customers driving foot traffic to the brick-and-mortar store.
Check out a Connected Screen in action in the video below:
2. Create Additional Touchpoints with Your Customers
It's important for brands to take advantage of every touchpoint they have with consumers. As they benefit from innovative experiences from other brands, they begin to expect the same convenience and ease from the stores where they regularly shop.
Mobility: While shopping in a physical store, consumers indulge in mobile showrooming, where they compare prices online on their smartphones to get the best deal. Merchants need to be part of this interaction and transaction and should consider implementing ways the help open up a dialogue with consumers. Merchants can insert themselves in this buying decision process by using Tablet POS solutions in-store. These types of solutions allow retailers to interact with the customer, show them product information on a tablet, upsell on complementary products and provide them various delivery options. The solution can also help complete the transaction securely right where the customer is in the store. By using mPOS solutions, merchants can better engage with the consumers and eliminate showrooming while keeping them within the store's own channels.
Unattended: Some shoppers walk into retail stores knowing what they want to buy and they prefer to speed up the purchasing process without any consultation with store staff. To meet this demand, merchants such as Best Buy have successfully implemented vending machines that sell phone chargers, keyboards, headphones and other products—not just in retail stores but in strategic locations such as airports and train stations. Self-service kiosks are also an option for merchants to help sell products and provide convenient checkouts without consultation or staff interaction.
Mobile Wallets & Loyalty: Mobile wallet adoption among consumers is also increasing and merchants are jumping on the bandwagon to accept NFC payments. However, a new trend involves retailers creating their own mobile wallets. Starbucks has been doing it for years, but big retailers such as Walmart and Target have also joined the mobile wallet movement. Tier one merchants may want to consider creating their own mobile wallet and combine it with loyalty programs and mobile apps to enhance customer service and checkout experiences while gathering better data on consumer buying behavior to refine their future strategies.
3. Innovative Product Delivery/Pick up
Merchandise delivery and pick-up services have changed the retail landscape and there are many ways for merchants to innovative here.
Home Delivery: Whether consumers are shopping online or in-store, getting products delivered has become common and is now something that is expected of Merchants offering free delivery, same-day delivery, even low-cost premium delivery have an upper hand over retailers who do not.
In-Store Pick Up: Merchants, on the other hand, are also trying to get online customers into the store, which creates more opportunities to upsell and increase basket size. Many retailers, such as Walmart are offering discounts during the holiday season for all online orders if customers pick up their merchandise in the store instead of getting it delivered.
4. In-Store Experience Beyond Expectations
Shopping can be both a fun and frustrating experience for the customer. Busy shopping seasons often cause long lines and leave customers annoyed. In the past decade, there hasn't been much innovation to tackle these long lines in retail and also enhance the in-store experience for customers.
However, merchants today can use mobile point of sale (mPOS) or wireless payment solutions to help customers check out from anywhere in the store. This way, customers who are purchasing a single item or only very few items can checkout easily without having to wait in line or go to the main counter. This also gives store staff an opportunity to better engage with customers, check inventory and shipping options to address out-of-stock items and even upsell products that complement what the customer is already buying.
These are just a few of the trends and strategies driving better customer experiences and helping innovative retailers meet consumer demands. With these tactics, merchants can better serve their customers and provide a great experience regardless of how they shop—whether it's in-store, online, on a mobile device, or using an unattended solution.
If you need help in planning for 2018 and exploring the best retailing strategies for your business, get in touch with us!
In the meantime, we hope this blog post has been helpful. What are some of the strategies your business is looking in to for 2018? Please share your questions and comments in the section below.
Nate Potter is Director of Retail Strategy at Ingenico Group, North America