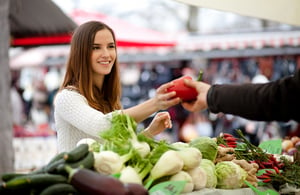 Like retail, the grocery industry is constantly changing, and businesses need to think about providing their customers with the experiences they want. This is particularly important as disruptions in the industry have begun to alter consumer expectations and demands.
For example, in the wake of its acquisition of Whole Foods, Amazon recently expanded its two-hour grocery delivery service. This rapid delivery option is now available to Prime users in three new U.S. cities, and it's just one of numerous delivery and technology initiatives reshaping the nature of grocery shopping and industry's competitive landscape. This addition allows the online retailer and Whole Foods to grow their user base by offering the convenience of home delivery for groceries.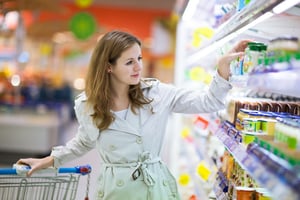 Consumers are quickly becoming tech-savvy in all their shopping, and grocers need to evolve with them. According to a survey by Progressive Grocer, keeping up with technology in their business was the third-most important concern among grocers, rapidly moving up from ninth in 2017. What this essentially means is that grocers are looking to use technology to implement different omni-channel strategies to reach the customer at multiple touch points. Omni-channel shopping is also emerging as the most important strategy for grocers. According to eMarketer, 56% of grocers have already integrated an omni-channel strategy to connect digital and in-store shopping capabilities.
An omni-channel approach allows grocery retailers to reach customers wherever they are and provide the most convenient ways to shop. Whether it is in-store, online, on-mobile or even via kiosks, grocers need to know their audience and implement strategies that help build loyalty and work best for their business. Here are just a few of the omni-channel methods that grocers can use. Let's take a look:
1. Mobile shopping apps.
Many of today's shoppers prefer the convenience of shopping in the comfort of their own home, using their smartphones or tablets. Mobile shopping apps provide an ideal way to capitalize on this preference while engaging and selling to consumers through a digital channel and earning their loyalty. Many mobile apps allow users to build shopping lists and also recall previous orders to make re-ordering items easy. With mobile apps, merchants are also able to run and track loyalty programs easily by offering mobile coupons, discounts on visits, etc.
Indeed, grocery retailers are observing and taking action, with 54% of them now offering their own mobile app compared to just 30% in 2017. In addition, mobile apps are helping them deploy many other omni-channel strategies, as we describe below.
2. Click-and-collect & Curbside Pickup.
It's very common for customers to be aware of what they want to shop for even before they enter a store. This is where the convenience of click and collect and curbside pickup can be helpful. These strategies allow customers to order ahead (either online, over the phone or in-app) and just pick up their items in the store or curbside. Close to 32% of grocers in the U.S. now offer these services compared to 18-23% in 2017. These features allow grocery stores to provide an additional layer of convenience to their customers and keep their loyalty to the store.
3. Home delivery.
Given the disruptive impact eCommerce has made in delivering products to consumers' doorsteps, it's no surprise that many grocery stores are now offering home delivery of their products as well. Many are doing this by leveraging their own staff and resources, with the adoption of this in-house strategy doubling from 14% in 2017 to 28% of stores in 2018. Stores that are not equipped with the staff and resources to manage home deliveries, can partner with third-party delivery services such as Instacart. These services help stores deliver groceries to the consumer and can cover everything from setting up a mobile app and online shopping portal to providing personalized shoppers and fulfilling deliveries. Similar to store-supported home delivery, this strategy nearly doubled in growth with 32% of stores now working with third-party delivery services compared to 17% in 2017.
4. In-store mobile product scanning.
Even for shoppers who still prefer to shop in the store, the experience can be made more convenient and personalized by providing customers with mobile product scanners. These devices allow customers to scan the products, check their price, product info, etc. as they put them into their carts. Once they reach the checkout lane, they can just present the scanner and the checkout process is considerably shortened. This improves the efficiency of the merchant's business. Based on the survey on eMarketer, 24% of stores now offer mobile product scanning in 2018 compared to just 8.5% in 2017.
5. Ordering kiosks.
Unattended digital kiosks aren't just a great way to enable self-service automation in checkout lines. Grocery stores are also increasingly using them to boost customer convenience by allowing them to order groceries without having to shop for them. Kiosks are an ideal way to serve consumers who want to order on the go, without having to interact with store associates or wait for a checkout. With 17% of grocers now offering ordering kiosks in 2018, compared to 1.4% in 2017, adoption for this strategy is on the rise.
6. Scan-and-go.
To save on checkout times and improve overall customer experience, many grocery chains, including Kroger and Meijer are experimenting with scan-and-go convenience. This technology allows customers with the retail store's smartphone app to scan UPC codes on products as they shop. They can even delete items and change quantities as they move in the store. Shoppers can then scan their phones at the self-checkout lane and pay for the grocery items bought.
Identifying the Right Strategies
As these examples and industry trends indicate, there are many opportunities to leverage omni-channel shopping as an effective tool to reach your customers wherever they are and however they prefer to shop. Many grocers are already implementing some of these strategies, and, with the right technology partner, you can determine the right choices for your business help take your grocery business to the next level.
To get expert insights and recommendations and learn more about the possibilities, drop us a line and let's talk about your shopping and payment technology needs.
Mark Bunney is the Director of Go to Market Strategy at Ingenico Group, North America