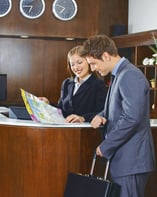 A seamless, personal and innovative guest experience goes a long way in the hospitality industry. One of the best ways to improve this experience is by deploying the right payment technologies that make check-ins, check-outs and general service fast and convenient.
We've worked with many leading hotels, resorts, and other businesses across the hospitality industry, and have been part of many innovative projects designed to improve guest services and experiences. All of these center on the latest payment solutions that help hospitality businesses improve service quality and create entirely new guest experiences. In this blog post, I've compiled a list of these innovative use cases that are revolutionizing the industry:
1. Front Desk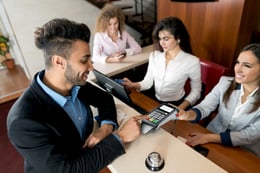 Guests at hotels expect personal recognition, instant check-in, efficient transactions and a pleasant experience. The front desk, in most cases, is a guest's first interaction and hospitality businesses can provide all they are looking for and more by using the right payment solutions. Other than accepting any payment on the spot, hotels can also make check-ins easier by encoding RFID keys with the help of payment solutions.
2. Bellman & Room Assistance

Hospitality guests expect convenient service everywhere on the hotel property. Whether it's the convenience of being able to securely make electronic payment in a guest room for meal service or it is programing room keys for a stranded guests in the hallway because their key doesn't work. Delighting guests with convenience at every step of way will help build loyalty.
3. Golf Carts & Pro Shop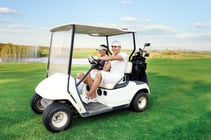 More consumers today are traveling with less cash and hospitality businesses such as hotels and golf resorts must find a way to serve customers and accept all electronic payment methods. Whether they are buying food and beverages from the drink cart on the golf course or making a purchase in the pro shop, a business never wants to turn away a customer because it can't accept a preferred payment method.
4. Remote Check-Ins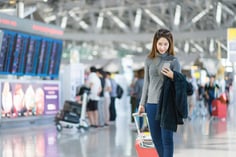 Today's traveler likes to avoid delays and lines, and appreciates any help that saves them time, especially when checking in, obtaining room keys and checking out after their stay. Hospitality businesses can take a guest's experience to another level by greeting them in the lobby or even at the airport. Staff can instantly check in the guest, encode RFID room keys, and get them on their way.
5. Poolside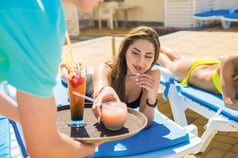 A beautiful day by the pool with food and beverages makes it for a perfect hang out for guests and lucrative business opportunity for a hotel or resort. With the right payment solution, hotels can enable servers to efficiently process orders, provide personalized service and accept payments at the point of service avoiding any wait times for the guests.
6. Restaurant & Pay-at-the-Table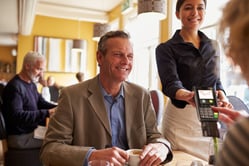 The quality of food and service are what great restaurant experiences are made of, but they also include secure, fast and efficient payment for the meal. The right payment solutions allows servers to work more efficiently by turning tables faster and focus more on customer interaction. In addition, restaurants within hotels can reduce costs and boost profits dramatically.
7. Hotel Spa & Gym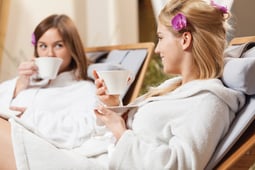 Hotels with spa and gym facilities and services also need to think about increasing their revenue by providing their guests with an easy way interact with their offering and securely pay on the spot for services they use. Interactive solutions also allow hotels to upsell premium packages to guests and allow for a softer sell while taking pressure of their staff. Guests are easily able to choose the service they want and pay securely on the spot.
8. Gift Shop or Store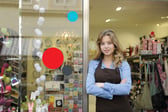 Gift shops or hotel stores present great opportunity for impulse buys from guests. Hotels should be ready to accept all electronic payments as guests purchase last minute gifts, souvenirs or even a magazine to read, as it is likely they might not carry cash to pay or just prefer to pay via card.
9. Self-Service Kiosks & Vending
Self-service kiosks and vending solutions are a great way to provide the 24/7 convenience to busy travelers. Unmanned check-in stations can program a guest's room key and vending machines can provide them with snacks, beverages and more at odd hours. These solutions also help hospitality businesses cut costs, reduce staffing requirements and improving efficiency.
The Future of Hospitality Payment Innovation
We are slowly moving towards a cashless society and more consumers will start to expect to be able to pay with their preferred electronic method. Whether it's magstripe, EMV or NFC/contactless, hospitality businesses need to be ready with the appropriate payment solutions that cater to their guest's every need to build loyalty and maintain a competitive edge.
Hope this blog post provided you with helpful information, if you would like to know more details about these use cases and what type of solutions would be helpful, download our whitepaper – "How the Hospitality Industry is Innovating Guest Service with Payment Solutions".
Bob Arsenault is Sales Executive at Ingenico Group, North America