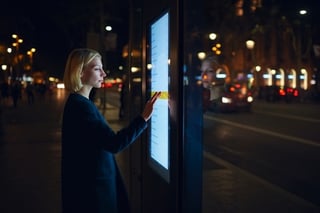 The Internet of Things (IoT) has been a topic of discussion for the past few years, and the nature of its applications has evolved over time. According to a report by Gartner, the Internet of Things will grow to 26 billion units installed by 2020. This report also highlights that the IoT product and service suppliers will generate revenue exceeding $300 billion by the same year. But where does payments come into the picture?
With IoT becoming an integral part of our daily tech consumption, payments is also being increasingly integrated into the overall experience. Today, consumers around the world are used to seeing large color displays with information that is relevant to them, and on some occasions they are able to interact with the screen via a call-to-action, either by scanning a QR code or texting a phrase to a number in order to receive a coupon or offer.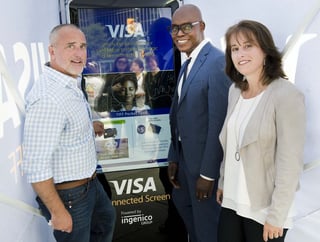 There are numerous use cases for payments-enabled connected screens, including charitable organizations. With this solution, charities can place their connected screens in different locations such as malls, street corners, etc. or at events and enable consumers walking by to donate by simply tapping their contactless credit cards, mobile wallets or smart watches on the screen. This solution was developed to bring new consumer experiences to market that capitalize on impulse shopping by removing existing levels of friction from the buying process, and was recently debuted in North America at the Toronto Film Festival (TIFF). Another example of a similar implementation was carried out in Europe – see the video below of the technology in action:
NFC/contactless-enabled connected screens are perfect for brands and merchants to create new points of interaction with consumers. And here's why:
Impulse: Historically, digital out-of-home (DOOH) advertising has worked to capture the attention of viewers for 3-5 seconds, but has failed to convert a significant number of sales. This is where connected screens can succeed – they provide the merchant a way to quickly convert that 3-5 seconds of interaction into a transaction.
Frictionless: The transaction process on connected screens is frictionless. Consumers walk up to the screen and are able to choose the product or service they want to purchase and simply tap their contactless card and/or mobile wallet on their smartphone or smartwatch. The transaction happens instantaneously and securely and all the necessary information is emailed or texted to the consumer and they can be on their way. The idea of waiting for the credit card to process, waiting for a receipt, etc. disappears. This is especially beneficial to charitable organizations as the consumer can be presented with a list of pre-set donation amounts for them to choose from and simply pay via their preferred contactless method.
Minimal Setup: One of the key benefits of this solution is that it has a minimal setup. Once the screen is ready for use, it can be transported to other locations and used once plugged in.
Security: Payment security is of utmost importance, and the contactless payment acceptance system takes care of that. All transactions made at these connected screens are just as secure as using a traditional payment terminal.
Connected screens have the potential to revolutionize digital signage by creating interactions between them and connected objects that consumers use today. It provides consumers with the convenience of purchasing both physical and virtual goods with just a simple tap of their contactless cards and/or mobile wallets.
If you are at TIFF, please come by our contactless connected screen in front of the Roy Thompson Hall. Learn more about connected screens and our solutions on our website.
Christopher Tyghe is the Vice President of Strategic Development at Ingenico Group Canada