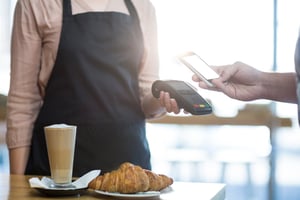 Biometrics today, such as fingerprint readers and facial recognition, are making the payment experience more secure and seamless for consumers. Biometrics have been widely used in other industries including law enforcement, healthcare and voter registration for several years. In the past, authenticating a person came only in the form of either something you have (a key, a badge) or something you know (a PIN, a password). A password is more difficult to steal than a physical object, but it can still be done. Biometrics today also verify identity based on characteristics unique to the person which cannot be stolen or replicated (for the most part).
Payments require two-factor authentication—a card and a PIN, a card and a signature or maybe a card and a fingerprint. Let's take a look at how biometrics are used in the payments industry around the world today and what the future may hold:
Debit cards with fingerprint readers in the UK
British bank NatWest is testing an NFC contactless card with a built-in fingerprint reader. This card would eliminate the need for the standard £30 limit on contactless payments that the UK currently imposes for security purposes. This limit is imposed because contactless card payments only provide one factor of authentication; including a fingerprint reader bumps contactless cards up to two factors and allows unlimited purchasing. While the card would make purchasing higher ticket items more convenient for consumers, it requires them to physically go to their bank to set it up. Since most banking actions such as checking one's account balance and depositing a check can be done from a mobile device, this could be a little inconvenient for consumers. Although mobile wallets such as Apple Pay and Google Pay use biometrics, this contactless card could be beneficial for those who would rather use a physical card, but especially for those who can't afford a smartphone.
Paying with selfies in China
China's Singles' Day (11/11), the world's largest shopping event, had some interesting data points from 2018 when it comes to how consumers paid. According to Alipay, 60.3 percent of customers paid by either scanning their fingerprint or taking a selfie. It's not surprising since Chinese consumers seem to have really embraced using their identity to pay: in 2016, around 70 percent of consumers in China said they were comfortable with biometric payments, and that number jumped to 85 percent in 2017. Since most people in China already use their phone to pay for everything, the move from scanning a QR code to taking a selfie is not as big of a leap compared to other countries that still rely heavily on cash and cards.
Where we're at in the U.S.
When it comes to biometric payments in the United States, mobile wallets are the most common—at least for now. This year, Target, Taco Bell and other retailers will begin accepting Apple Pay. With the inclusion of these top retailers, 74 of the top 100 merchants in the U.S. and 65 percent of all retail locations nationally will offer Apple Pay as an option. By 2021, in-store payments via smartphones are projected to reach close to 190 billion dollars in transactions in the U.S. It's important to note that while all iPhones that have Apple Pay installed have fingerprint reader or facial recognition capabilities, consumers can opt to type in their passcode, which still serves as the second factor of authentication. Although U.S. consumers often still pay with other methods, mobile wallets are slowly but surely taking off.
As technology advances, consumers will likely become more comfortable paying with biometrics because they will come into play in other areas of their lives as well (smart IDs, connected cars, etc.). What do you think? Leave a comment below and let us know your thoughts!
Bradford Giles is Senior Vice President of Marketing and Sales Enablement at Ingenico Group, North America