How mPOS helps online merchants deftly move into the brick & mortar world
In a twist that has been noted in the media and by many industry observers, more e-tailers—those merchants that began online—are starting to open physical stores.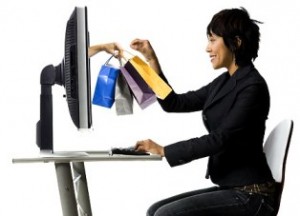 This direction of "e-tail to retail" may seem at odds with the early days of online commerce, but when you stop to examine the trend, these companies are tapping into some of the same success factors that helped them get started as e-tailers, especially when it comes to the way smaller merchants got going online.
Speed and convenience
Those key success factors boil down to speed and convenience. Many small e-tailers knew that building an online commerce infrastructure from scratch - the site hosting, the shopping basket features, the inventory management, shipping, and fulfillment capability -would have been cost prohibitive, time consuming, and too complex to do on their own.
So what they did is turn to online marketplaces (like Amazon, eBay and Etsy) and e-commerce platform providers (like Shopify, Volusion, and Highwire), who could quickly meet these needs for them. Today there are hundreds of small e-tailers who are succeeding because of the speed and convenience of being able to tap into these providers' platforms.
The drive towards physical stores
Now we're seeing many of these small e-tailers moving into the retail world with pop-up stores at festivals, farmers markets, or other venues. At the same time, we're seeing major online retailers such as women's fashions brand Piperlime, menswear e-tailer Bonobos, and eyewear provider Warby Parker open physical stores as well.
For small e-tailers, the move into a retail diversifies their revenue stream, and for the bigger players, it's a way to capitalize on their online brands, and build a stronger selling relationship with consumers thanks to a complete multi-channel experience. For certain goods such as apparel, it's tough to beat the power of letting customers touch, feel, or try on merchandise to hook the customer and capture the sale.
Easing into retail with mPOS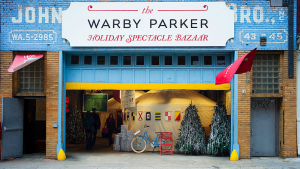 There are differences in the way e-tailers are moving into retail. For example, the larger merchants are often building higher-end brick and mortar stores, rather than going the pop-up route. That said, whether it's a bigger e-tailer opening a shop in a fashionable retail district, or a small one taking the pop up route, there is the common desire for speed and convenience when it comes to the infrastructure they need.
Whether large or small, merchants that got their start online often have some very good things going for them. They know which products sell best, they know the value of branding, and the importance of making the payment experience a snap. In fact, Warby Parker describes its retail spaces as combining "the snappy ease of online order with the fun and serendipity of real-life shopping."
The question for the larger e-tailers, as well as online marketplaces and platforms serving smaller e-tailers, is how to make the in-store consumer experience smooth, fun, and effective, without forcing the e-tailer to deploy all sorts of infrastructure? In many cases, the cost of software systems for running stockroom inventory and payment terminals would be hard to justify.
The answer for many of the e-tailers making the move into physical retail is mobile point of sale (mPOS). When leveraging a secure mobile card reader, combined with the right apps running on readily available tablets or smartphones, mPOS can serve as an ideal solution for e-tailers looking to implement a system for taking face-to-face payments from customers in a fast and secure way.
Online providers as one-stop solutions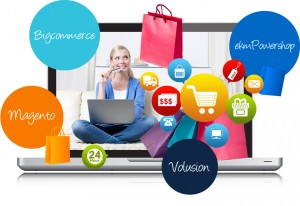 This market trend of e-tailers moving into physical retail is driving many e-commerce software suppliers and online marketplace providers serving online merchants to extend their services into mPOS. By doing so, they're enabling their customers to quickly and easily launch into physical sales using one unified platform – thus streamlining business processes such as inventory management, accounting, and order fulfillment.
At the same time, it helps them differentiate from many of the e-commerce giants who are online only and don't offer smaller merchants a solution for physical retail. Some of these e-commerce software suppliers and online marketplaces can even offer mPOS readers with their own logo—which builds on their online brand image.
At the end of the day, marketplace and e-commerce software providers need to think of how to be a one-stop provider for merchants who increasingly want to go multi-channel. With a flexible mPOS platform, the marketplaces and software providers have the means of meeting that one-stop need.
Layering apps over the core
At the core of this quick and easy infrastructure for getting into physical retail is mPOS, which consists of the mobile card readers, payment processing capabilities, security features, and the software that enables merchants to manage their business. The most flexible and advanced mPOS solutions also leverage secure APIs for integration into mobile apps that meet specific business needs, with functions such as inventory management and appointment or reservation scheduling.
In the brick and mortar world, back-end systems for inventory management and in-store sales have long been available, but typically involved solutions that may not have been as cost effective or as flexible as the latest mPOS technology for e-tailers moving into the stores. By contrast, the new solutions being tapped by e-tailers moving into retail are cloud-based apps for tablets or smartphones. When you combine a flexible mPOS foundation with well-known mobile devices and apps that meet the functional needs of specific retail categories, then you have a complete solution in a low-cost, mobile package.
This move from e-tail to retail will likely continue, with consultants such as PwC talking up a trend toward a "total retail experience" that bridges the online and physical worlds.
It simply makes sense to build on a strong online brand in the physical world. With mPOS as the core enabler, many e-tailers are finding they can accomplish their retail goals with the speed and convenience that were hallmarks of their success in the online world.
Eric Hoffman is the Senior Vice President of U.S. Sales for ROAM