Payments, being a dynamic industry, is constantly evolving and executives need to be aware of key technologies in the market. Here, I've summarized five key payment technologies that hospitality tech executives need to know about:
Europay MasterCard Visa (EMV): 2015 is the Year of EMV migration in the U.S.
You might have heard the term, and that it's at the top of the priority list for merchants this year, but what is it? EMV stands for Europay, MasterCard Visa - a new payment standard that relies on microprocessor chips embedded in cards, rather than the less secure magstripe cards, as an instrument to enhance credit/debit card security. The card brands have been driving the EMV migration in the U.S. by setting a liability shift deadline of October 2015 for the merchants to upgrade their payment infrastructure. If your hospitality business is not ready for EMV yet, you should get started.
Near Field Communication (NFC): Contactless payments set to pick up steam in US with Apple Pay & Android Pay
NFC is the underlying technology behind Apple Pay, Android Pay, and other contactless payment methods. As merchants upgrade for EMV, many of the latest payment solutions enable them to accept NFC transactions as well. Contactless payments are pervasive in European markets and are already becoming common in the US, so get ready for it – guests at your hotel, resort or casino will be asking to pay via this method soon.
Point-to-Point Encryption (P2PE): Proven solution to reduce card data compromise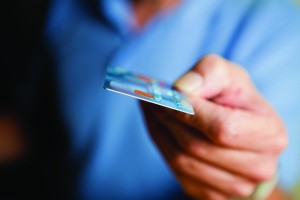 P2PE is a security solution that helps protect card data through the payments process - from start to finish. Due to many of the high profile credit card data breaches of 2014, P2PE is becoming standard in the U.S. to secure card data from any potential interceptions. For hospitality businesses looking to provide guests with a secure, optimal experience, P2PE is a proven solution that can help you protect your guests' sensitive information, while protecting your company's brand.
Tokenization: Multi-layered security approach protects cardholder data
Along with EMV and P2PE, tokenization rounds out a complete multi-layered security approach to help fully protect your guests' cardholder data. By replacing the card data with a secure token, hackers are not able to access the actual card information – just the encrypted tokens that are worthless to anyone until it has reached its final destination, the payment processor. Along with P2PE and EMV, tokenization enables merchants to limit the overall cardholder data environment, and reduce PCI scope. For these reasons, we believe tokenization will be used by nearly all major hospitality merchants over the next couple of years.
Mobile Point of Sale: mPOS solutions add flexibility to payment acceptance and enhance guest experience
One of the biggest trends in hospitality is the ability to accept card payments via a mobile point of sale (mPOS) solution. An mPOS solution frees your staff from being tied to the front desk and enables seamless card acceptance from anywhere a sale may be – ranging from a beverage cart on a golf course to poolside drinks and appetizers to mobile check-ins on the airport shuttle. Many hotel chains, including Hyatt, are already leveraging this technology.
All of these technologies are already present in the hospitality sector and are increasingly gaining traction in the market. If you would like to learn more about them, submit your questions to our Ask an Expert page.
Bob Arsenault is an Account Executive, Hospitality Solutions at Ingenico Group, North America