EMV allows customers to keep their cards in their possession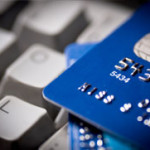 A potentially confusing change in the EMV payment process, yet one that improves security, is that the customer will no longer hand over a card to an associate for processing: customers will be able to keep their cards in their own possession and control at all times.
Instead of swiping the card, the customer inserts or "dips" the card into the EMV card reader and leaves it there until prompted to remove it. Because the customer must insert (or tap, if using an NFC/contactless card) his or her own card, follow the prompts, enter a PIN or signature, and remove the card at the appropriate time, EMV-compliant merchants are required to make a customer-facing payment device available. As a result, there are more hardware and mounting options available than ever. Some questions to consider:
Will the POS device be secured on the checkout counter so it can be turned or swiveled toward the customer?
Will the POS system include an external customer-facing PIN pad?
Will hospitality providers and mobile merchants adopt payat the table systems or tablet-based devices to enable customer PIN entry?
How will a customer-facing PIN pad be physically secured and protected against theft, tampering and cord damage?
The systems and equipment each merchant chooses must depend upon its unique product mix and retail circumstances, and there are many viable EMV-enabled options. Which option you choose will determine exactly how customer payment behavior will need to change, and store associates must be ready to explain, assist and expedite transactions patiently and professionally.
The good news is there's no need for merchants to worry about the transition to EMV. But there is definitely a need to prepare for the transition.
Allen Friedman is the Director of Payment Solutions at Ingenico Group, North America