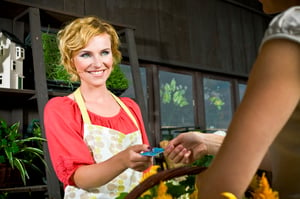 With the advent of credit cards in the early 1900s, consumers all around the world have been experiencing cashless payments. What started with these plastic cards, has now evolved into contactless and peer-to-peer (P2P) payments providing additional convenience for consumers today.
Recently, I came across an interesting article in Bloomberg, which reported that the Mercedes Benz Stadium in Atlanta is planning to go cashless to provide their fans a fast and seamless experience while maintaining its low pricing on food and beverages. Back in 2017, the stadium lowered prices on food-related items and set a new high standard for the fan experience. With this new cashless initiative, the stadium speeds up the payment process and eliminates the cumbersome handling of physical currency. A unique and positive fan experience is likely to bring those guests back to attend more events and spend more eventually leading to increased revenue.
The trend of electronic payments is not new, but it has suddenly exploded in the U.S. in the last few years with alternative payment methods coming to the fore. Mobile wallets such as Apple Pay have seen an increase in adoption by 43 percent in 2018 compared 36 percent in 2017. But the real question I wanted to address today is what does this mean for businesses and their customers? Is it good for them or is it bad? The short answer is – both.
The Good: Solving Challenges
Let's face it, cashless payments are very convenient. As a consumer, you can just use your card on a payment acceptance device or even tap your smartphone with a mobile wallet and be on your way! They have many benefits to offer for both the business and the consumers:
For the businesses:
Reducing Cash Clutter: When the majority of transactions in your business are taking place with credit cards or mobile wallets, it can reduce the clutter that cash tends to create. Handling large amounts of cash has a cost for businesses and can be cumbersome to manage if the restaurant has multiple locations. Going cashless can help them better utilize their resources and is also likely to protect them from robberies.
Friction-less Payments: Electronic payments are easy. The checkout is faster and allows businesses to serve more customer each day improving staff efficiency and increasing revenue.
For the consumers:
Convenience: With electronic payment methods, consumers don't even need to carry cash with them while they make purchases. In some situations, all they would need is their smartphones with mobile wallets.
Speed of Checkout: Electronic payment methods are faster. There is no counting of cash, no returning of change, no pesky pennies. Consumers can simply use their credit cards or mobile wallets and be on their way to their next stop.
Customer Experience: Other than being convenient, electronic payments also help provide a unique experience to the consumer. With the advent of mobile wallets on smartphones and smart watches, paying for things almost seems like magic. Good shopping experience can go a long way and encourage customers to keep coming back to the store.
Loyalty Integration: Getting new customers is one thing, but keeping the existing ones is harder and what has helped many businesses retain them is a loyalty program. Modern cashless payment methods also integrate easily with loyalty programs providing these businesses additional opportunity to enhance customer experience while giving them incentives to purchase more.
The Bad: Unbanked and Underbanked Consumers
Cashless payments, though convenient, cannot serve everyone. There are consumers in the market who do not have bank accounts, there are some who don't own mobile wallet-enabled smartphones and that prohibits them to pay with electronic methods.
Unbanked & Underbanked: According to a 2017 FDIC survey, 6.5 percent of households in the U.S. were unbanked in 2017 representing approximately 8.4 million households. An additional 18.7 percent of U.S. households (24.2 million) were underbanked, meaning that the household had a checking or savings account but also obtained financial products and services outside of the banking system. New York City alone has 11.7 percent unbanked and 25.1 percent underbanked households. These consumers make up a huge percentage of the population that in a cashless environment would not able to purchase anything.
Ban on Cashless: Philadelphia recently became the first major U.S. city to ban cashless payments. Lawmakers in the city are looking to maintain access to the marketplace for low-income consumers which also includes underbanked and unbanked individuals. Other states such as New Jersey and New York and districts like D.C. are also looking to follow suit.
Not all consumers are equal and shop in the same way. Some like using their credit cards, some shop with their debit cards. Some still prefer to use cash and maybe some may prefer the cool factor of using mobile wallets.
Businesses need to focus on understanding who their customers are. By allowing them to pay how they want to pay – electronic or not – they accommodate everyone. However, if businesses do wish to go completely cashless, they need to think about serving the unbanked communities maybe via closed looped cards. This will make sure every customer can pay using an electronic payment method.
A Future Where Everyone Pays Their Way
Even though electronic payments is one of the most important technological leaps we have ever made, cash is still important. According to 2018 World Cash Report, it still represents 32 percent of all payment transactions in the U.S. and remains a reliable and dominating transaction type.
While we continue to make strides in payment technology to reduce friction, we also have to think about access. While technology cannot make everything better for everyone at the same time, strong implementation can help to close the gaps as much as possible to better serve people from all walks of life.
How do you think cashless payments will affect our lives as consumers? What are you most excited about? Provide your feedback in the comments.
Mark Bunney is Director of Go-to-Market Strategy at Ingenico Group, North America