Now that we are well into 2019, it's time that your business hops on the latest restaurant technology trends to optimize your guest experience. Toast POS recently released restaurant industry statistics for 2019, which highlights that 73% of restaurant goers agree that technology improves their guest experience. In addition, 95% of restauranteurs agree that technology improves their business efficiency. Positive guest experiences and business efficiency are critical to the success of any restaurant, but equally important is deploying the right technologies that work best for you.
Quick Service Restaurants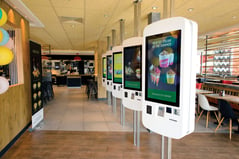 Customers expect quick service restaurants (QSRs) to be just that—quick. Self-service kiosks are a great way to speed up the ordering process by eliminating the need for staff to take orders, allowing them to focus on preparing food to get customers in and out more quickly. Kiosks also improve order accuracy and provide an upselling opportunity for your business, leading to a higher average ticket (15-30% higher). Most importantly, most self-service kiosks are equipped to securely accept all forms of electronic payments including magstripe, EMV and NFC/contactless, ensuring the safety and security of your customer's card data while letting them pay their way. If you're still not convinced your QSR could benefit from a kiosk strategy, what's more is that customers seem to really like them: when a kiosk has been available, 65% of guests have used it to place their order.
Another great way to integrate technology into your business is to adopt a mobile point of sale (mobile POS) strategy. Your staff can take orders and engage with customers while they wait in line, speeding up the entire process and delighting customers. In addition, if your QSR has a drive-through, mobile POS solutions can be used for staff to take orders and accept payment at the customer's car window, rather than them having to wait to get to the window or speaker. A similar approach can be used if your restaurant offers take out or online ordering, where mobile POS solutions can be used for curbside pickup. Customers will enjoy the convenience of prompt service with minimal wait times when payment acceptance is brought right to the curb.
Dine-In Restaurants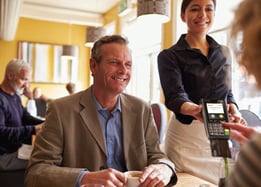 When it comes to dine-in restaurants, Pay-at-the-Table solutions offer several benefits for both your guests and your business. With them, you can replace the multi-step process of dropping off the guest's check, coming back to retrieve a credit card, dropping off the final receipt for a signature and tip and returning later to retrieve the final bill. Instead, the server brings a payment acceptance solution to the guest. This assures them that that their credit card is secure because it never leaves their hands. Your servers will be able to work more efficiently, turn tables fifteen percent faster and focus more on face time and customer interaction. This not only enhances your customers' experience but can help you reduce costs and boost profits.
Pop-up Locations/Food Trucks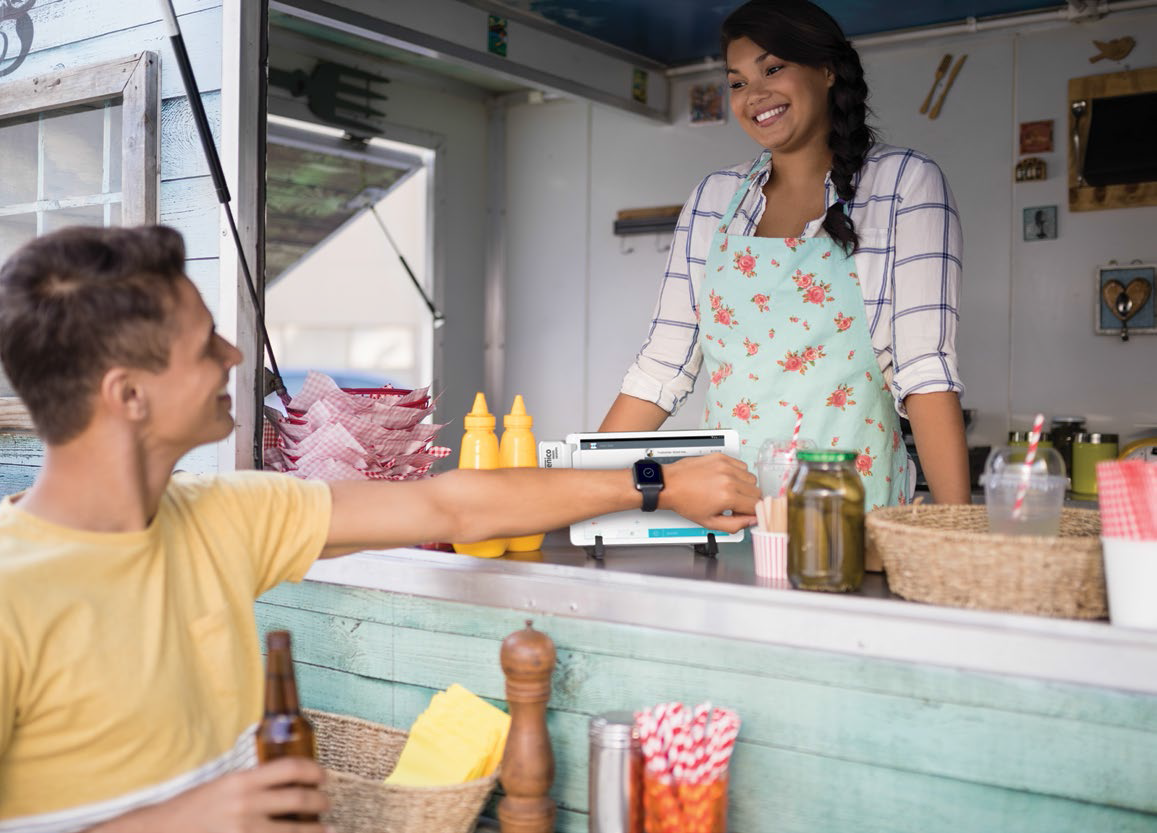 Restaurants today have the flexibility to reach customers virtually anywhere—from a food truck serving customers at a variety of locations and businesses, to pop-up locations at outdoor festivals, farmers' markets or sporting events. Food trucks and pop-up locations have the challenge, however, of accepting secure electronic payments in remote locations. Mobile POS solutions bring the same secure and convenient payment experience to your customers that they would have at a permanent restaurant location. This ensures that regardless of where you're set up, or what payment method your customer would like to use, you'll be able to complete the sale and leave them satisfied.
Payment Technology Improves Guest Experience
There is a ton of new technology available now, but it's important to find the right tools that will help you improve your guest experience and make your business more efficient. Whether your restaurant is quick service, dine-in or a pop-up location/food truck, there are payment solutions that will boost your customer service and business efficiency in 2019.
Want to learn more? Get in touch with us and we'll help you figure out which solution is best for your business.
Mark Bunney is the Director of Go to Market Strategy at Ingenico Group, North America