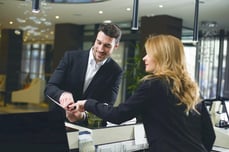 In the hospitality industry, delivering a seamless, personal and innovative guest experience is crucial. Each hotel has many opportunities to engage its customers and provide a delightful experience, and innovative hoteliers are creating multiple guest service improvements by leveraging their payment solutions in new and effective ways.
Hospitality businesses around the world have implemented innovative payment technologies at every point of interaction. From cashless payment options in vending machines, to being able to pay for drinks on a wireless or mobile point of sale (mPOS) device by the poolside, hotels are seamlessly integrating payment technologies throughout their business to create a more seamless customer experience. They are also extending the value and benefits of these solutions by tapping into the devices' RFID encoding capabilities.
Enhancing Check-In Experience with RFID
Long lines at the front desk are frustrating for busy business travelers as well as guests on a leisure vacation. When a guest's keycard isn't working after reaching a room on an upper floor, this is another unwanted annoyance.
Wouldn't it be wonderful for guests to be able to check-in while they're in the shuttle from the airport, when they arrive at curbside or virtually anywhere you might greet them? Wouldn't it also be great for guests to be able to get their room keys re-programmed without having to walk back to the front desk?
Some payment solutions enable these improvements by not only accepting secure payments but programming and reprogramming RFID key cards. To do this, the payment device is integrated with the hotel's property management system and its gateway. This integration allows a payment device to read and write secure RFID cards, which provide guests with access to their rooms and other facilities.

Payment solutions equipped with RFID capabilities have many benefits for the hospitality business owner:
1. Reimagine the Front Desk: Save space and additional cost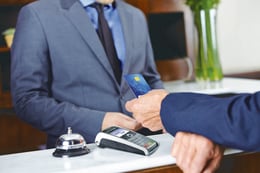 Nearly every guest arrives at the hotel and starts their stay at the front desk – it's the gateway to the rest of the hotel. It's also where space is often at a premium, and décor constraints sometimes dictate technology choices. With the latest payment solutions, the front desk doesn't have to be cluttered and doesn't need separate devices for accepting payments and programming room key cards. A single smart terminal with RFID capabilities can perform both functions, which frees up desk space and eliminates the cost of buying and maintaining additional devices to program key cards. In some cases, a hotel's loyalty cards could also be programmed to be used as room keys, which in turn reduces the need to stock key cards.
2. Improve Guest Experience: Line busting and remote check-in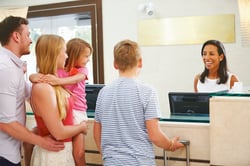 The check-in process is often time consuming and can negatively affect a guest's first impression. With mPOS solutions and RFID technology, hotels have the opportunity to take the check-in process right to the guest. Hotel staff can use remote check-ins as a line busting tool during high volumes of arriving guests, or use it to check-in at any other location.

For example, a guest could be in an airport shuttle arriving at the hotel, and a hotel employee can easily provide a check-in process and program room keys while in transit. This way, the guest can go straight to their room upon arriving at the hotel. Remote check-in also allows hotels to remove the front desk entirely and simply check-in guests anywhere in the lobby. For hospitality businesses, this creates an opportunity to provide a new and personalized experience, while casually upselling upgrades and other amenities during the process.
3. Improve Efficiency: Self-service kiosk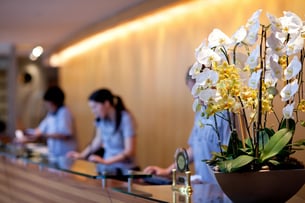 Streamlining the check-in process improves hotel efficiency and caters to busy travelers who want to check-in and get on their way. This can be achieved by implementing unattended kiosk solutions. Self-service digital kiosks allow guests to review their reservation, make any edits, complete a check-in and program their room keys—all without the need for an employee to help them. This reduces staffing requirements, saves costs and provides an opportunity to engage guests on their terms, at a different touchpoint.
Payment technology is constantly evolving, and businesses need to move forward with it. Hospitality business owners should leverage the full potential of their payment solutions and look to gain the benefits of using these technologies for more than just accepting secure payments. If you're looking to enhance the guest experience in your hospitality business, get in touch with us!
Bob Arsenault is Sales Executive at Ingenico Group, North America