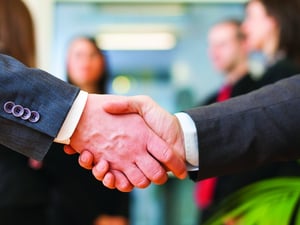 Innovative applications that integrate payment acceptance simplify one of the most critical business processes – accepting electronic payments. If retail stores today had to constantly switch between their POS app and the one that accepts payments, the margin for error is likely to increase. Staff can become inefficient causing delays in checkout, billing inaccuracies could increase, etc. But most importantly, it will affect the shopper's overall experience.
As an ISV, you need to enhance the value of your solutions for your customers by integrating payment acceptance in your business applications. Incorporating this can be a lucrative stream of revenue for you and it can also help you build stronger relationships with your customers.
To better manage the payment acceptance part of your solutions, you need a strong technology partner. "But, why," you ask? The road to the success with an innovative business application is definitely in your wheelhouse but integrating payment acceptance can be complex. If you don't have the right payment technology partner, you can run into many business risks. Here are some of the risk factors that are involved and how a good payment technology partner can help solve them.
Total Cost of Ownership
Procuring inexpensive technology for your solutions is a classic cost-saving tactic many businesses use. Sure, it can save you upfront expenses, but the total cost of ownership (TCO) goes beyond just that. If you were to take a long-term view on it, you'll realize all the frequent replacement and maintenance fees will add up, resulting in a much higher TOTAL cost. This rising TCO coupled with unreliable technology is likely to affect your relationships with your customers as they too will realize the benefits of choosing better quality solutions and won't hesitate to take their business elsewhere. You can maximize the lifespan of your solutions by working with a payment technology partner that provides you with a field-tested hardware and software that is built with the future in mind.
Speed to Market
As an ISV, you know how critical it is to get your solution in the market quickly and avoid any potential delays. When you are integrating payment acceptance in your solution, certifications are a big part of the process. This usually takes a lot of time and can affect the timeline of getting your solutions to the market. This can mean missed business opportunities and potential revenue. You should look for a payment tech partner with a reliable range of certified solutions that can help you get to market faster. You should also make sure they provide you with a single integration platform for all the devices allowing you to diversify your solutions catering to customer needs across multiple industries and use cases.
Reliability of Support
Complex and innovative technology can often have down-time and this is where your relationships with your customers are tested if you don't provide with reliable support. According to 451 Research, 75 percent of the merchants surveyed said that downtime during peak hours preventing acceptance of customer payments would result in a loss of $1,000 or more per minute. This is a significant number if you think about the scale of operations your customers have. If not provided with the right support, they are likely to switch to someone can. You should look for a payment tech partner that, even after the sale is over, can provide you with ongoing, responsive support and troubleshooting assistance to make sure your customers are satisfied.
Brand Impact
At the end of the day, the smallest of nuances in a shopper's experience can impact what they think of the brand. Payments have a big impact on your brand image and that of your customers. It matters to businesses how their solutions look to their customers and how it affects their brand image. Between a café using clunky technology which doesn't work half the time and one which uses a well-designed solution that adds to the brand image, the latter will always be preferred. If you are selling outdated technology, your potential customers are likely to choose another ISV who can provide them with something that also helps elevate their brand image. Your potential payment technology partner can be instrumental in shaping your brand image and your solutions. Their shortcomings can rub off on you and your customers may see that negatively impacting your business.
Way Forward for ISVs
You, as an ISV, are constantly looking for ways to differentiate and thrive in this competitive landscape. Having the right technology partner can help you avoid the risks mentioned above and get you to market quickly with a powerful solution that can securely accept electronic payments. Download the full brief from 451 Research to understand how you can focus on the 'true cost of ownership' to capitalize on the strategic value of payments. If you are already in the process of selecting a payments technology partner, download our checklist to make the best decision.
Mark Bunney is the Director of Go-to-Market Strategy at Ingenico Group, North America