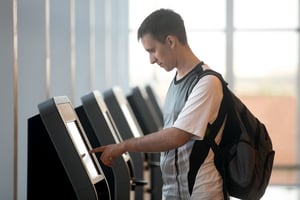 Customers today have become very tech savvy and expect the same level of technological sophistication wherever they shop. In this fast-paced environment, consumers are looking to buy things quickly – whether they are grabbing a phone charger from a vending machine at a mall, or they are printing a boarding pass on a kiosk at the airport, their dependence on and desire for unattended solutions is quickly increasing. Apart from traditional retail environments, unattended kiosks are becoming more common in the food & beverage industry, particularly in quick-service restaurants (QSRs).
According to a recent report, the U.S. interactive kiosk market was worth $717 million in 2016. Out of that market, kiosks for food and beverage represent more than 30 percent, making it the largest in the category. This shows that many restaurant businesses are increasingly implementing kiosk strategies to boost their business and improve their customer's experience.
McDonald's is a pioneer in the kiosk field. It installed kiosks at many of its French outlets over a decade ago and are now slowly rolling them out in their U.S. restaurants. Other big chains including Wendy's, Jack in the Box and Taco Bell are also looking to jump on the kiosk bandwagon. According to a recent report, the food and beverage segment has grown by 8.4 percent between 2013 and 2016 and is expected to grow by 7.2 percent to reach $310 million by 2021. Shipments of food and beverage kiosks to the U.S. has also grown by 11 percent between 2013 and 2016 when more than 2 million units were shipped.
But why are restaurants adopting kiosk technology? There is a lot of data that suggests kiosk are helpful to QSRs and can help boost their business. One study has found fast food customers spend 30 percent more when ordering through self-service kiosks. This is just the tip of the iceberg, having a kiosk strategy in your QSR has many benefits. Let's take a look at a few:
Wait time reduction – QSRs are generally busy during meal times and long lines can easily push potential customers away. Today's digital kiosks offer full immersive experiences to the customer where they can see all menu options on a large touchscreen display allowing them to order their meals easily and pay securely. This process saves wait time for regular customers who know what they want.
Accurate ordering – Many customers have been in situations when their food has been prepared incorrectly by the restaurant staff. This can occur due to a cashier incorrectly entering the order or not hearing the customer clearly. With digital kiosks, customers can easily customize their orders and make sure that itis accurate before they pay.
Large amounts of customer data – Kiosks allow QSRs to capture large amounts of data on their customer's buying habits. With current solutions in the market, restaurant owners can track anything from in-restaurant traffic to meal buying patterns to top searched menu items. With quick ordering, merchants can also capture additional customer data via short surveys on the solution without holding up a line.
Easier enrollment in loyalty programs – Loyalty programs are important for merchants to build strong relationships with their customers. Kiosks allow merchants to enroll customers into their loyalty program right from the touchscreen displays.
Better upsells – Upselling is a big part of boosting one's business and kiosks are good tools merchants can utilize to achieve their goals. Software running on these systems can be programmed to ask the customer whether they would like to add sides to their main order in an effort to upsell them.
Cut labor costs – With kiosks in place, merchants can also look to cut labor costs or even reallocate labor for more productive use, saving them both time and money.
Accepts all payment methods – Modern day kiosks are equipped to securely accept all card-based payments including – EMV, magstripe and NFC/contactless. Consumer choice in today's world is paramount to building loyalty, including how your customer pays.
Improves overall customer experience – With the help of a kiosk, QSR customers can decide and order easily without the need to interact with any of the restaurant staff. The margin for error in the customer orders are minimized and the saved time and money for the diners can help enhance their overall experience at the restaurant.
Conclusion
Kiosks have many benefits and are the perfect way for restaurants to improve efficiency and enhance their customers' experience. As mentioned before, many QSRs are already thinking about boosting their business with strong unattended solutions. It is also time that you consider this option for your restaurant business. Drop us a line and let's get started.
Bruce Rasmussen is the Director of Sales, Strategic Verticals at Ingenico Group, North America