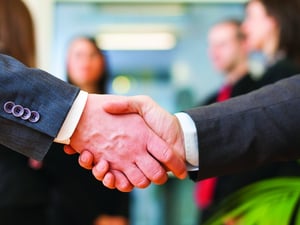 For an ISV, ISO or VAR, bringing an innovative point of sale (POS) solution to the market quickly is a big priority. However, an obstacle for many of these businesses is that their core competency is developing POS solutions and not in payments and the required technologies. Merchants of all sizes, across every vertical, expect their POS solutions to not only meet their payments needs but also enhance the overall customer experience. That's why it is important for ISVs, ISOs and VARs to work with a payments technology partner that enables them to easily develop these solutions while at the same time assists in delivering an innovative POS experience. When partnering with the right technology partner to handle these various barriers, developers are able to focus on their core competency – creating innovative business applications.
Choosing the right technology partner for your payment-related needs can be difficult. There are several good companies to choose from and based on the needs of your business and more importantly, the needs of your customers, your criteria can differ. However, there are some basic qualifications that should always be present in a good payments technology partner.
1. Reliable Technology is the Heart of the Solution
The right technology is at the center of any payment solution and a good technology partner should always provide solutions that cater to the specific use cases and environments (retail, restaurants, hotels etc.) that your business serves or plans to serve in the future. Ideally, these solutions should easily handle all types of transaction volumes and accept all forms of electronic payments, including magstripe, EMV and NFC/contactless methods, such as mobile wallets like Apple Pay and Google Pay.
From a software perspective, it is important for a technology partner to provide the options of pre-certified solutions that are compliant with the latest PCI data security requirements and EMV certifications. These pre-certified solutions make it easy for developers to get to market quickly without having to worry about certifying the solutions themselves – which can be very expensive and consume multiple development cycles. With security being a growing concern, providing point-to-point encryption (P2PE) and tokenization is now a must have with any payment technology partner.
2. Flexibility with Support for Multiple Industries & Use Cases
From fixed terminals to unattended and mobile point of sale (mobile POS), your payments technology partner should offer solutions and expertise that meets the needs of the markets you serve. These typically include retail, restaurants, hotels, healthcare. Even if your business currently focuses on one of these markets, your partner will have a wide range of expertise to help you attract and service customers as you move up or down this market or if you plan to move into new markets when the time and opportunities are right.
3. Stay Ahead of Industry Trends with Payments Expertise
Technological advancements are an ongoing opportunity and it is important for you to stay ahead of this curve. The ideal technology partner should help you stay well informed of the latest trends, standards and requirements in the payments industry. Its solutions and expertise should be flexible and enable payment acceptance across multiple channels, support any customer service model and keep you current with PCI data security requirements.
One good way to judge the level of expertise of your payments technology partner is the affiliations they have with leading industry associations, such as EMVCo, the U.S. Payments Forum, ETA and more. They should also be able to provide you access to their subject matter experts to help your business with expertise on EMV, PIN on Glass, payment security, contactless payments, semi-integrated solutions and other critical topics.
4. Elevate Your Brand with Marketing Support
Marketing your solutions to the right audience is as important as building them. This is where a payments technology partner can combine their expertise in payments with their marketing know how to help generate demand for your solutions. The partner should be able to help you build awareness and drive sales with comprehensive marketing support, insights and assets. This includes: demand generating and awareness campaigns, content, co-branded collateral, social media support, events and tradeshows.
5. Easily Troubleshoot with Sales, Product & Technical Support
As an ISV, ISO or VAR, you may require support for sales, product and technical matters at various points in your business. Having this level of assistance will ensure that you are meeting and exceeding the expectations of your customers. Your technology partner should offer your business an account team that works with you, providing support and troubleshooting for any questions or issues that may arise.
Additionally, your partner should offer the expertise of their engineers to help provide technical information to your customers and prospects. Their product team should be able to deliver training and insights to help you better understand and prepare for coming changes in payment technologies and regulations. Your partner should also offer a customer support team that will help troubleshoot and tackle any technical issues that arise while integrating and deploying payment solutions to your customers.
Get Started and Find Your Technology Partner
Choosing the right payments technology partner is a big decision and can help you maintain a competitive edge in the market. If you are already in the RFP process to find your technology partner, use the above-mentioned factors or download this checklist to guide your questions. If you are looking to start the RFP process, you can still use this information to help guide your conversations with your prospective technology partner.
Bradford Giles, SVP Marketing & Sales Enablement, Ingenico Group, North America