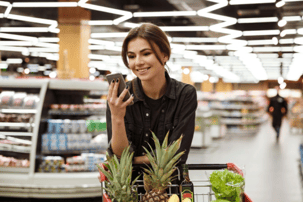 The millennial generation – those who are between the ages of 18 and 35 – is the single largest generation ever seen in the United States. According to the U.S. Census Bureau, this highly-prized group that draws attention from all corners of commerce, had 75.3 million members at the end of 2015. Make no mistake – the millennials are the ones who are driving innovation and adoption of new technologies, and those whose job it is to understand consumer behavior and societal changes are taking their cues from millennials.
Mobile payments is one such technology that is being adopted by millennials. A recent Business Insider Intelligence survey showed that 90 percent of millennials said they made a purchase using their smartphone, and nearly half said they made an in-store smartphone purchase within the past week. The high adoption rates are a pretty good indication that mobile payments will continue to grow with the population as a whole.
Businesses are also watching millennials for what attracts them to specific businesses and how mobile payments can be used to establish and retain loyalty. Millennials like loyalty and rewards programs that offer conveniences, and they tend to gravitate to those businesses that can offer such programs, but they don't like having to carry too many cards. Most loyalty programs come with the added burden of a card or key tag that members must carry so it can be scanned every time a purchase is made, in order to get credit or points towards a reward. Loyalty programs that are mobile-based and integrated into a smartphone app are especially attractive to millennials, as they take advantage of their increasing desire for mobility with their attraction to loyalty programs.
Mobile-based loyalty programs can be as simple as acting as a repository for points accumulated when making purchases to automatically issuing coupons upon entering the business, or even simply passing by the business, which is known as proximity marketing. For example, coffee shops that issue mobile coupons to passers-by will often see an increase in business, as consumers are more likely to stop in to redeem the coupon.
But while millennials are leading the way when it comes to mobile payments and loyalty/reward programs, their older cousins, Generation X, are not far behind. Vantiv contracted with Socratic Technologies to conduct a survey of 500 consumers about their experiences and preferences for redeeming offers, as well as their use of digital assistants. They found that 22 percent of those surveyed preferred mailed coupons, versus just six percent of the millennials surveyed. To no one's surprise, younger consumers are using digital means to redeem offers – 24 percent of millennials and 18 percent of Gen Xers preferred scanning a QR code from their smartphones to receive an offer, whereas only five percent of Baby Boomers said they preferred that manner of redemption.
However, poorly designed and managed digital loyalty and reward programs can have a negative effect, by creating a negative feedback loop through word of mouth or app store reviews, not only reducing the value of the program, but of the brand, as well. Companies that implement such programs need to be aware of what is going on with their programs at any given time, monitoring the entire process, and be ready to remedy anything that goes wrong.
The more popular mobile payments become, the more businesses will need to find ways to integrate loyalty programs into their apps, particularly if they want to attract the lucrative millennial generation and grow the adoption and usage of mobile payment platforms. By ensuring mobile rewards programs work with NFC-capable terminals can help businesses reach the largest demographic group in history and remain relevant in an ever-changing environment.